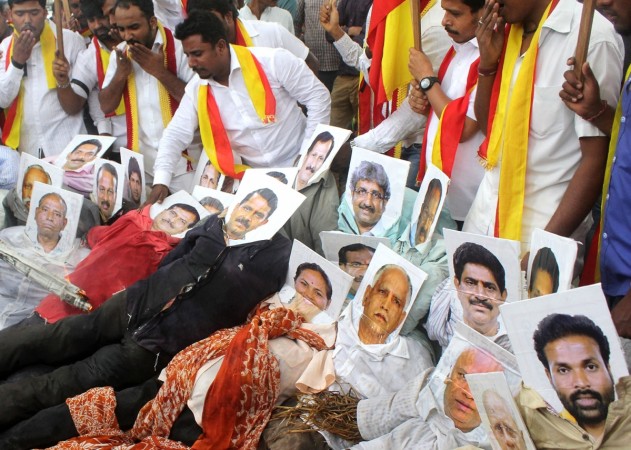 Karnataka Home Minister G Parameshwara apologised to the victims who got beaten up by the police in north Karnatak districts on Saturday during the Mahadayi protests and ordered an inquiry to probe such incidents. The police reportedly hit children and women, including a nine-month pregnant woman.
"I apologize for the attacks on women and children. I have directed senior police officers not to file cases against aged citizens, women and children. Cases will be booked only against those who set fire to seven government offices during the agitation," Parameshwara said.
The police have faced repercussions for the brutal way of handling the protest after videos and photographs of the day went viral. Dharwad Rural deputy superintendent of police (DSP) was transferred and Navalgund circle inspector Arunkumar Happal was suspended. Additional DGP Kamal Pant was given the responsibility to conduct the inquiry and file the report in a week.
I asked the same questions to the policemen after watching the video. They told me there was an angry mob on the other side of the road. In fact, there was no untoward incident in the past year and cops have been patient with the agitation. This incident happened on Saturday and we don't know what went wrong. Once the inquiry report comes out, we will initiate action and take corrective measures," he added.
Mahadayi protest:Home minister apologizes to victims of police brutality, orders enquiry https://t.co/VTz56x7TRN pic.twitter.com/pgyiC3KyPk

— TheNewsMinute (@thenewsminute) August 1, 2016
The police allegedly entered homes of Dharwad villagers and hit whoever they could lay hands on, the News Minute reported. Senior citizens and a nine-month pregnant woman were also not spared. The Congress government has been making headlines for their inefficient administration during the last week. Whether it was the bus strike or the high fees paid to Congress lawyers who represented the government in front of the Mahadayi Water Disputes Tribunal and failed to rally the verdict in favour of Karnataka, the government has been repeatedly criticised with senior Congress leaders also asking for replacing Chief Minister Siddaramaiah.
After the tribunal's verdict rejecting Karnataka's plea for 7.56 thousand million cubic feet of water for parched four districts of north Karnataka, massive protests rocked the state on Saturday. The BJP also jumped into the matter and released a statement about the protests.
"The people of Karnataka have been agitating peacefully against the interim order by the tribunal. The police should take care not to use harsh action against people who are peacefully protesting...As a people's representative and as a Union Minister from Karnataka, I assure you that I will make any & every effort to ensure that Karnataka obtains its rightful share of the waters of the Mahadayi river," said Ananth Kumar, BJP MP and Union Minister of Chemicals and Fertilizers.
Hubli (Karnataka): Congress stages protest over Mahadayi water verdict issue pic.twitter.com/WCDJEKNzmQ — ANI (@ANI_news) July 30, 2016
North Karnataka districts react to adverse Mahadayi tribunal interim order https://t.co/ZndPtT77Ro #news #India pic.twitter.com/jludHqGvGz

— Indian 24 News (@indian24news) July 27, 2016