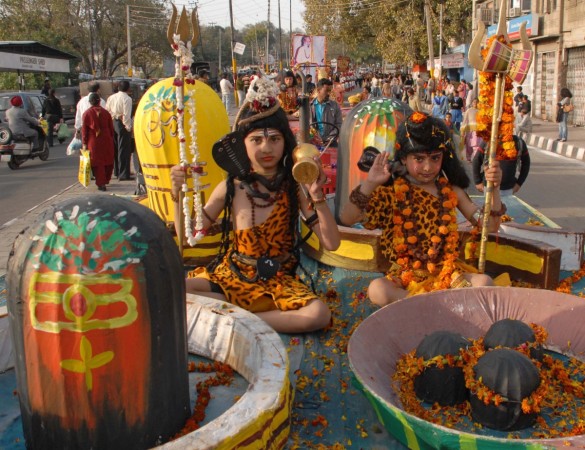 Hindu festival Maha Shivratri, which falls on March 7 this year, is dedicated to Lord Shiva and is celebrated with a religious fervour by devotees. The festival is not just celebrated in India but also in other regions including Nepal, where Lord Shiva is worshipped.
There are various interesting mythological stories about why Shivratri is celebrated. One such story is that the formless God appeared in the form of "Lingodbhav Moorti" at midnight on Maha Shivratri and this is said to be the reason why devotees stay awake at night and offer prayers to the Lord.
Also, Maha Shivratri is believed to be the day when Lord Shiva married Goddess Parvati. Thus, the day marks the union of Shiva and Shakti, the two greatest forces of the universe. During the night on this occasion, unmarried women pray to get a husband like Lord Shiva and devotees also worship the God to achieve success and drive away evil spirits.
Also, thousands of devotees take a holy dip at various pilgrimage destinations on this occasion. From early morning, devotees form long queues in various temples in India to offer prayers and also witness the "Rudra Abhishekam" of Lord Shiva.
Some devotees also smear ash on their bodies, while some followers fast and offer special prayers to Mahadev (Lord Shiva), the god of destruction.
Here are a few Maha Shivratri wishes, greetings and messages to send to your friends and family.
On the auspicious occasion of Maha Shivratri – the night of Shiva worship, let's savour 'Thandai' (made from cannabis, almonds, and milk) and sing songs in praise of the Lord Shiva and dance to the rhythm of the drums. Happy Mahashivaratri!
May Lord Shiva who is also known as Mahadev, Mahesh, Maheshwar, Shankar, Shambhu, Rudra, Har, Trilochan, Devendra and Trilokinath bless you at all times! Happy Mahashivaratri!
Om Namah Shivaya" Let's spend the night of Shivaratri by chanting the name of Lord Shiva and seek His divine blessings! Happy Maha Shivratri!
We wish you all a very Happy Shivratri. May Lord Shiva and Mata Parvati shower their blessings to everyone. May this festival be a purposeful one to everybody.
Mahashivaratri marks the night when Lord Shiva performed the 'Tandava' and it is also believed that Lord Shiva was married to Parvati. Let's celebrate this auspicious day with special prayers to Lord Shiva and offer water, milk, yogurt, honey and bel leaves to have a successful life. Happy Mahashivaratri!
Shiv Ki Jyoti Se Prakash Badhta Hai, Jo Bhi Jaata Hai Bholey Ke Dwaar, Kuch Na Kuch Usse Zarror Milta Hai! Happy Maha Shivratri!
Pi Ke Bhaang Jamaa Lo Rang; Jindgi Bite Khushiyon Ke Sang; Lekar Naam Shiv Bhole Ka; Dil Men Bhar Lo Shivraatri Ki Umaang; Shubh Maha Shivratri!