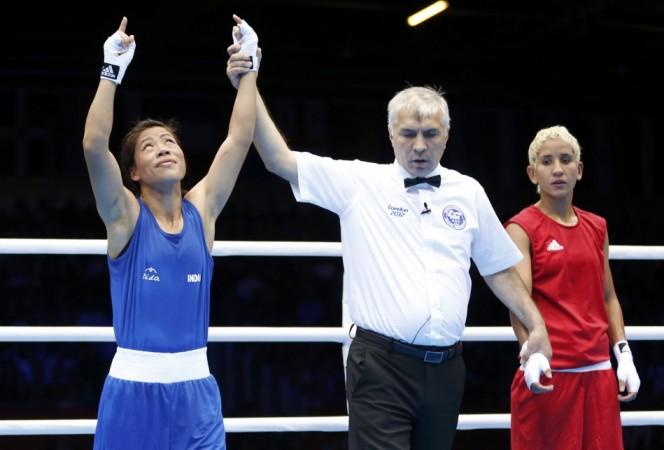 MC Mary Kom stormed into semi final of the women's boxing 51 kg category at the London Olympics by beating Maroua Rahali of Tunisia 15-6 on Monday evening, assuring another medal for India.
The 29-year-old five-time world champion from Manipur, who is known by the name 'Magnificent Mary' among the boxing fraternity, will get at least a bronze from her first Olympic appearance with her quarter finals bout win against Rahali, taking India's medal tally to four. She will also be the third Indian woman after Karnam Malleswari and Saina Nehwal to win an Olympic medal.
In spite of fighting in the 51 kg category (she fights in 46-48kg), Mary Kom dominated the Tunisian in all the four rounds 2-1, 3-2, 6-1, 4-2. She used her speed and good footwork to land regular punches on her opponent.
Mary, the lone Indian to participate in the first women's boxing in the Olympics and the mother of five-year-old twins, had an emotional start at the Olympic, defeating Poland's Karolina Michalczuk 19-14 in the first round on Sunday.
"It is an emotional moment for me as today is my sons' fifth birthday. I am not there to celebrate because I am fighting in the ring. I am looking forward to being with them as this is important," said Mary after winning the first bout on Sunday.
Mary will now meet world No.2 Nicola Adams of England in the semi final on Wednesday. Adams, who had a bye in the first round, defeated Bulgaria's Stoyka Petrova 16-7 in the quarter final.