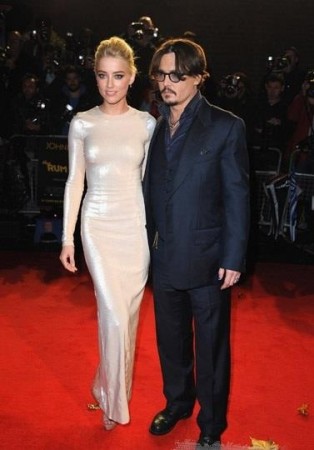 Amber Heard has revealed that she's not afraid of calling herself bisexual. In her recent interview, the "Magic Mike XXL" actress said that she doesn't want to be defined by her sexuality. Should her husband Johnny Depp be worried?
In all her interviews, Heard has been quite open about her sexuality. Similarly, in her recent tête-à-tête with The Time (via E!online), the actress said that she wants to take over Hollywood on her own terms and talents, and not be defined by her sexuality.
Being one of the few female actress' in "Magic Mike XXL", Heard shared that she was attracted to this role for the same reason. "It's a film about men seeking sexual attention. My character's function has nothing to do with her sexuality," the actress said.
The actress further said that she will not hold back from calling herself bisexual for the sake of staying palatable.
"I don't want to have to deny my sexuality in order to be me. But I don't want to have to be defined by it. I'm fundamentally opposed to trying to edit myself to be palatable or popular. I don't give a f--k. I fight, but I shouldn't have to," she said.
Long before she married actor Johnny Depp, Heard was in a long-term relationship with photographer Tasya van Ree. The actress spoke about this relationship in her interview with Elle Magazine in 2013. And even in that interview, she was clear about not shying away from who she is.
"I didn't want to look like I was hiding anything. I'm not, and wasn't ever, ashamed. I don't imagine myself, my work, or my life, fitting into any kind of standardized path. In fact, the idea of there even being a standard freaks me out a lot," she had said.
But various reports in recent months have blamed the actress' bisexuality coming in way of her marriage to actor Johnny Depp. In May, divorce rumours about the couple went wild. It was reported that Amber was allegedly cheating on the "Pirates of The Caribbean" actor with her secret girlfriend iO Tillet Wright, who is a New York-based artist, writer and photographer.
Now, after this recent interview, should Johnny Depp be worried about wife Amber Heard?