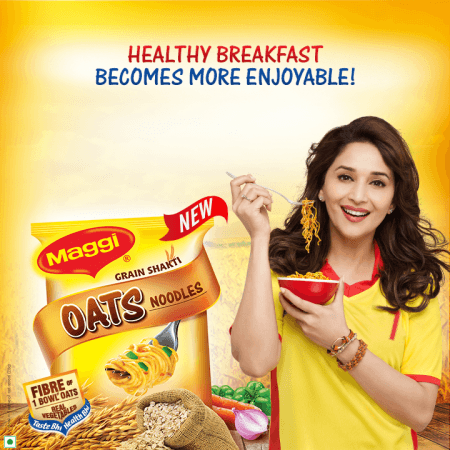 An advocate in Uttar Pradesh lodged a case against Bollywood actors Madhuri Dixit Nene, Amitabh Bachchan and Preity Zinta for endorsing Maggi in TV advertisements even as food regulator sued Nestle India for allegedly not complying with the safety and quality standards.
While the case against Nestle India was filed by Uttar Pradesh's Food Safety and Drug Administration, the actors were dragged to court by a local advocate who filed a separate case against the trio in Chief Judicial Magistrate (CJM) court , PTI reported.
The advocate said that he has filed the case against the three actors under Sections 420, 272, 273 and 109 of the Indian Penal Code.
He claimed that they earned impressively large amount of money by promoting Maggi products as healthy in advertisements and alleged "this wrong publicity amounts to malafide intentions and playing with the health of the kids and young people of the country".
Following the law suit, Dixit took to Twitter, to inform her fans about her meeting with Nestle India. She said the company reassured her that they will abide by all safety and quality standards.
Like most of India, I have enjoyed Maggi noodles for years. I was very concerned after recent reports and met with the Nestle team (1/3).

— Madhuri Dixit-Nene (@MadhuriDixit) May 30, 2015
Nestle explained that they always place the consumer first and have the highest quality standards. (2/3) — Madhuri Dixit-Nene (@MadhuriDixit) May 30, 2015
Nestle has reassured me that they adhere to stringent testing for quality and safety and are working with the authorities closely.

— Madhuri Dixit-Nene (@MadhuriDixit) May 30, 2015
FSDA has filed the lawsuit against the company and five others in the Additional Chief Judicial Magistrate court.
"Following FSDA Commissioner PP Singh's permission to file a case against Nestle India, a case has been filed in the court of ACJM (Additional Chief Judicial Magistrate) here," Barabanki Food Safety Officer VK Pandey said.
"The case has been lodged against the company's Nestle Nagal Kalan Industrial Area unit (Haroli, Una in HP), Delhi-based Nestle India Limited, an Easy Day outlet in Barabanki and the Delhi-based parent firm Easy Day, as also against and their FMCG (fast moving consumer goods) managers, Mohan Gupta and Shabab Alam," he added.
The case was lodged against the company after FSDA in Lucknow, Uttar Pradesh, found excess amount of monosodium glutamate (MSG) and lead in the samples tested by the food regulator in Kolkata laboratory.
While the permissible limit for lead is 0.01 parts per million (ppm), the food regulator found 17 parts per million lead in the samples they collected from Easy Day store in Barabanki. The amount of lead found is considered hazardous to health, especially that of children.