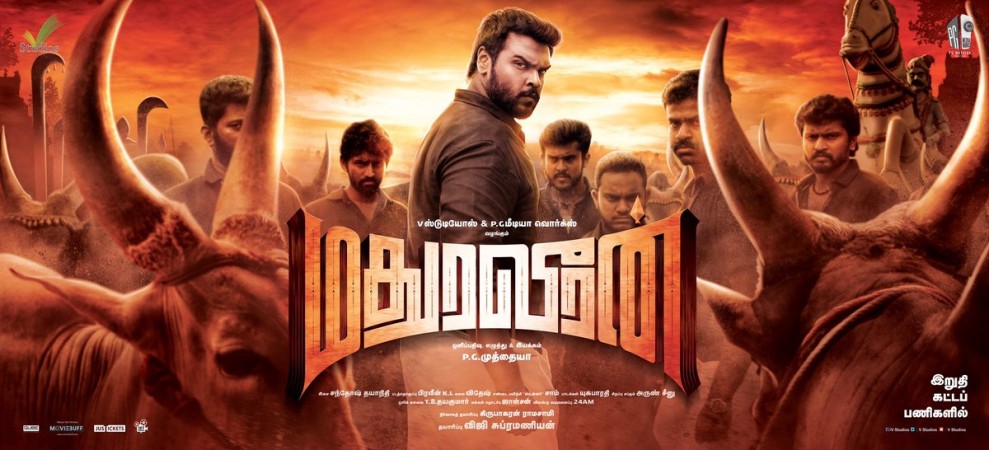 Madura Veeran is a full-fledged movie made on Jallikattu, the bull-taming sport from Tamil Nadu. The sport is not a small part of the film or has a passing reference, as has been the case with many other Tamil movies.
Cinematographer PG Muthiah has turned director with Madura Veeran. Shanmuga Pandian, the son of actor-turned-politician Vijayakanth, plays the lead with newcomer Meenakshi as the female lead. Samuthirakani, Vela Ramamoorthy, Mime Gopi, Rajendran and many others are part of the supporting cast.
The director himself has handled the cinematography department, while Praveen KL has edited the flick. Santhosh Dhayanidhi has composed the music and his folksy songs have struck a chord with the viewers.
Durai (Shanmuga Pandian), who is settled in Malaysia, wants to come to his native place 20 years after his father Rathanivelu (Samuthirakani) was murdered when he tried to unite two warring factions through Jallikattu. The hero's intention is to conduct Jallikattu in his village and find the people responsible for his father's death.
Guru Murthi (Vela Ramamoorthy) and Malai Samy (Mime Gopi) create hurdles in his way. What follows next is for the viewers to watch on the screen.
The movie had premiered for select guests on Wednesday, January 31. People who have already seen the flick have given fairly positive reviews.
Kaushik LM
#MaduraVeeranin2days #MaduraVeeranFromFeb2.. Presents village customs and local caste politics in a very real manner. #Jallikattu is a main driving force for the plot, and footage from 2017's protests have been smartly used by Dir @MuthaiahG to good effect..
#Maduraveeran - 3/5. Spl. Mention to composer @DhayaSandy for his songs & BGM. Topnotch work #Thalapathy #Vijay's jallikattu support speech & the end credits footage of real jallikattu action are the icing on the cake. Definitely watchable. Just 2 hrs runtime. No scope for bore
Ramesh Bala
#MaduraVeeran [3.25/5]: Newcomer #Meenakshi is aptly cast as the Village gal.. Great Supporting cast..
Music Dir @DhayaSandy songs and BGM deserve a special mention.. Top notch folk tunes..
Dir @MuthaiahG has made a sensible movie.. U come out with Pride after watching..
#MaduraVeeran [3.25/5]: An Excellent Rural drama with Jallikattu as the backdrop.. Touches the sensitive caste issues of Southern TN.. Blends last year's #Jallikattu movement of TN nicely in screenplay.. @thondankani delivers an award-worthy perf.. #ShanmugaPandian is sincere..
Thalaiva Manju Mass
#Maduraveeran - 3/5. Spl.Mention to composer @DhayaSandy for his songs&BGM.Topnotch work #Thalapathy @actorvijay's jallikattu support speech & the end credits footage of real jallikattu action are the icing on the cake.Definitely watchable. Just 2 hrs runtime. No scope for bore
Surendhar MK
Liked #MaduraVeeran. A rooted, well-made village drama centered on Jallikattu and the values of Tamil pride. @thondankani as Rathnavelu has delivered a towering performance. His mass image suits perfectly to dialogues that infuse social responsibility. No preaching this time
Adhav
#Maduraveeran - 3/5. Spl. Mention to composer @DhayaSandy for his songs & BGM. Topnotch work #Thalapathy #Vijay's jallikattu support speech & the end credits footage of real jallikattu action are the icing on the cake. Definitely watchable. Just 2 hrs runtime. No scope for bore
S Abishek
Scenes intended to be funny worked most of the time!
#BalaSaravanan succeeds! The Ramraj advertisement like scenes n sudden buildups were d only complaints!
#Jallikattu portions n @DhayaSandy 's music did help the film big time!
Cuss words were d highlight
#MaduraVeeran