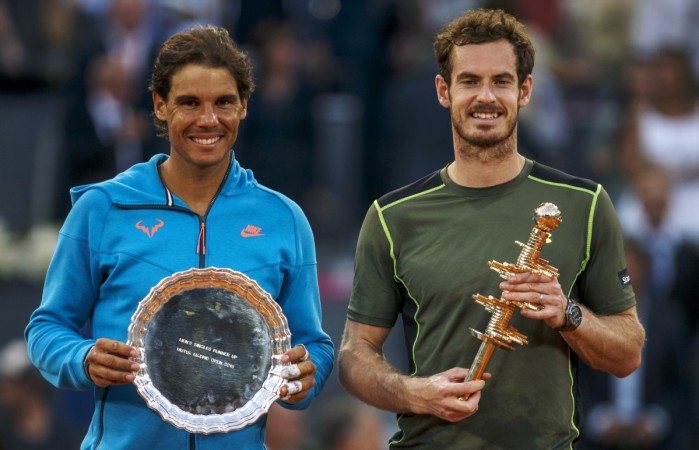 Rafael Nadal was outplayed by Andy Murray in the finals of the Madrid Open on Sunday, as the Scot defeated the Spaniard for the first time on clay. World number three Murray shocked many Nadal fans, as he put up an emphatic performance to clinch the title in straight sets, 6-3 and 6-2.
Point after point, Murray began to gain confidence and gradually began to dominate the game and the Spaniard did not have much to write home about.
It is unfortunate for Nadal to lose during the finals, as the Spaniard had been in majestic form en route to the finals without dropping a single set. Nadal, despite the loss looked happy with his overall game in the competition.
"The feelings that I have this week have been great," ATP official website quoted Nadal as saying. "The attitude has been very good... My game has been also very good over a lot of days, except for today, which was not my day. Let's hope these days don't repeat themselves very often."
"I cannot leave Madrid not happy. I have to leave happy and just delete what happened today. I will just stay with the good things that happened this week, and there are a lot of them, more good than bad. I will try to recover the good feelings in Rome."
Meanwhile, the Scot was very happy with his Madrid Open title and considers winning the title on clay a step in the right direction.
"Obviously to win a Masters 1000 on clay for me is a step in the right direction. It's something I had never done before. So that's good progress there. To win against Rafa on clay in a final in Spain is an extremely difficult thing to do, and I'm proud that I've managed to do that," said Murray.
With the French Open to start in a few weeks time, the world will start to fear Andy Murray as well, for the Scot has scripted a back to back win on the red surface, as he had also won the Munich Open in Germany a few days ago.
In the men's doubles final, it was the Indo-Romanian pair of Rohan Bopanna and Florin Mergea, who won the prestigious title. The final went down to the wire as it was stretched to three sets against the fifth seed pairing of Marcin Matkowski and Nenad Zimonic.
The unseeded Indo-Romanian pair won the title with the score reading 6-2, 6-7(5) and 11-9 with the game lasting for a gruelling 85 minutes.
2015 Madrid Open title is Bopanna's first title on clay. The Indian has won his previous Masters 1000 titles on hard surface only.
"We are very happy," said Bopanna. "It's a great title for us, winning on the clay. Especially for me, because it's my first title on the clay. Playing with a guy like Florin, he's a good friend and I've known him for a long time, so it's nice to get a title with him."