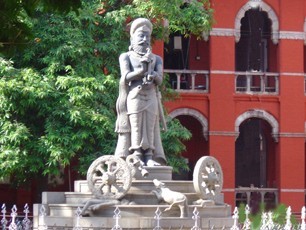 The Madras High Court has recalled a controversial order it had issued last month of giving interim bail to a rapist and recommending mediation between him and his victim, an issue that sparked angry reactions from citizens and even the Supreme Court.
The court recalled the 18 June order and cancelled accused V Mohan's bail on Friday and directed him to surrender before a trial court.
The Supreme Court of India has called the Madras High Court's order a "spectacular error".
Justice Devadass had given bail to Mohan so that he could be part of a mediation session with a woman he had raped in 2008 when she was only 15 years old.
The judge had described the rape survivor as "nobody's wife... an unwed mother" as she had delivered a baby after being impregnated by the rapist.
The Madras High Court judge had cited a previous case where his recommendation for mediation between a rapist and a victim had a "happy conclusion" and the woman had married her perpetrator.
The order, however, angered activists across the country and the Supreme Court said it went "against the dignity of women".
Even the rape survivor in the case said she was not interested in any mediation with the rapist.
Following the Supreme Court's judgement, the Madras High Court said that the mediation has been called off.
"The Officer-in-Charge, Mediation Centre attached to this court shall stop the parties from attending the mediation. The Registrar (Judicial) of this court shall ensure compliance of this order," the Madras High Court order said, according to IANS.
Mohan will surrender on 13 July, his counsel has said.
[With inputs from IANS]