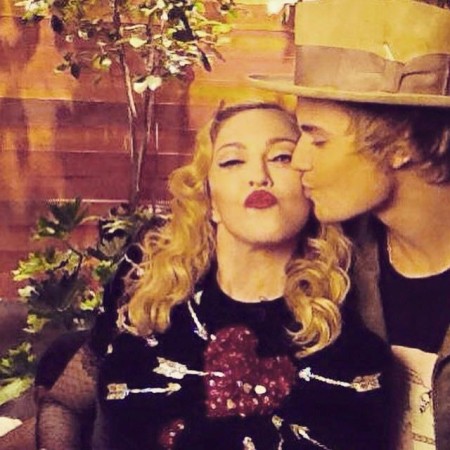 Madonna has achieved greatness in entertainment and entrepreneurship, but it turns out, she is also a closet comedian. The "Queen of Pop" even got a platform to practise her stand-up routine recently, when she appeared on "The Tonight Show Starring Jimmy Fallon".
During her appearance at the talk show, Madonna told her host Jimmy Fallon that her dream is to perform simpler shows as opposed to extravagance. When she expressed her ambition to perform stand-up comedy some day, Fallon graciously invited her to make her debut on his show.
Fallon introduced her a second time, as an "up and coming" comedian, as Madonna walked out from behind the curtain for a second time on the same night. Much like every comedian and talk show host who brings up her dating life, Madonna also spoke about why she almost always dates younger men.
Madonna began her routine by saying that she has been dating young men for so long that she accidentally asked her son Rocco if he could hook her up with any of his friends. When the audience clapped a little too loud, she begged them not to pull her out as she had many more jokes to share.
Madonna then went to share few instances when her younger suitors and she experienced generation gap in appreciating art. She concluded by saying that the biggest advantage in dating younger men is that they are really good with phones.
Madonna's romantic inclination towards younger men has been receiving a lot more publicity than it deserves. In fact during her appearance in "Ellen", the day-time talk show host and the "Material Girl" discussed how it is a big deal if a woman starts dating someone much younger than her, but half the men in Hollywood are doing exactly that and yet no one has issues.
She had also joked that in a couple of years, Justin Bieber, who was also a guest on "Ellen" would be a suitable date for her.