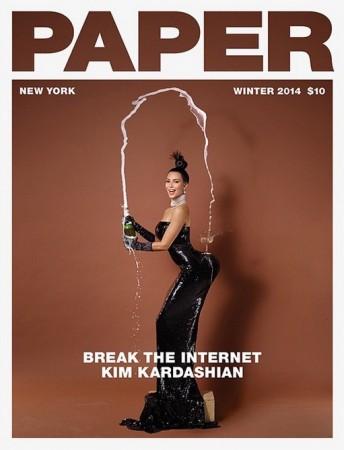 After Kim Kardashian 'broke the internet' with her naked pictures, pop icon Madonna took a jab at the reality star by posting her censored nude photos on Instagram. The controversial pictures of the singer popped up on social media on 20 November.
One of her pictures from the 90's showed her topless. It was captioned: "It's confusing. Nipples are considered forbidden and provocative, but exposing your ass is not. #flummoxed."
Though Madonna did not take direct shots at the reality star, but the mention of exposed "a**" does point at the photos of Kardashian's oiled behind, which were shot for Paper magazine. For the uninitiated, in one of the photos shot for the magazine, Kardashian can be seen balancing a champagne glass on her derriere. While in another, the lady drops her gown to expose her bare butts.
Meanwhile, it is not just Madonna who is allegedly miffed with Kardashian's nude pictures, "Glee" star Naya Rivera was the first one to take a pot-shot at North West's mom. The actress took to Instagram and wrote on Kardashian's photo, "I normally don't. But...you're someone's mother..," according to Hollywoodlife.
Rivera's comment has reportedly given rise to a major feud between two stars. Even Kim's sister Kourtney Kardashian reportedly thinks that the 34-year-old should not have shed all her clothes.
"She thinks it's disgusting, especially since she is a mother now. She doesn't understand why Kim would go completely nude knowing that one day little North is going to see it and think it's alright to pose nude, too," Mirror quoted a source from In Touch.
However, despite of the backlash, Kardashian sees the risqué photoshoot as a confidence booster. She recently revealed to Channel Nine's Today show that she had a really "bad pregnancy" and had "gained a lot of weight". She says that ability to pose nude after giving birth makes her feel positive.
"It's empowered me, I actually think I have a better body, I feel sexier. I feel proud to show my post baby body off," Kim said.
Kim is married to rapper Kanye West. The couple is said to be planning for their second child.