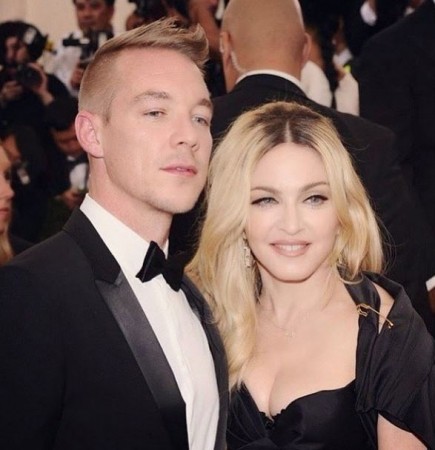 Sometimes we wonder, what's with pop singers dating DJs. We have read about Selena Gomez and Zedd and most recently, Taylor Swift and Calvin Harris. The latest buzz comes from the studios of singer Madonna, suggesting the Queen of Pop is dating DJ Diplo.
The singer and the US-based DJ-music producer have been working together and have collaborated on the singer's new album, 'Rebel Heart'. Now, a new report says Madonna and the 36-year-old DJ are hooking up outside the studio as well.
"They are totally going at it," a source reportedly told Star [via OK! Magazine]. "They have a no-strings attached arrangement that works out perfectly for both of them."
If you recall, the two stars recently appeared on the Met Gala 2015 red carpet as dates and were also spotted posing for pictures all night long.
In fact, Madonna was reported having fun and cosying up with Diplo in Paris sometime in March.
The 'Unapologetic B***h' singer, had been to Paris for an awards ceremony. And there, it looked likes things got a bit wild as the two stars larked around posting pictures of them cosying up to each other.
She appeared to be very close to the DJ as she captioned one of the snaps: "I don't even know . My @diplo."
Madonna also posted another photograph of her raising a glass of bubbly with the DJ as she added: "Blessed in Paris! #livingforlove."
The singer and the DJ spent a lot of time in the studio, hanging out while working on 'Rebel Hearts.'
But according to reports, it's more than just working hard in the studio and steamy sex in the bedroom.
"It's not just all bedroom fun. They have intense conversations about art and fashion, and they nerd out on music knowledge," a source said.
Well, this is not the first time Diplo will be dating a pop singer. In the past, during similar work collaborations, the DJ ended up dating Katy Perry and was in a long relationship with singer M.I.A.
But this time is Diplo here to stay for Madonna?