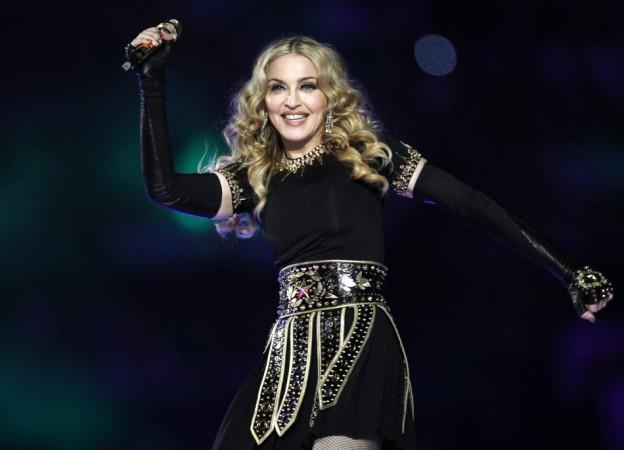 American pop sensation Madonna has been charged for allegedly violating Russia's controversial anti-homosexual propaganda law during a concert in St. Petersburg on Thursday.
A city councilor and the representatives of non-governmental organizations in St. Petersburg have filed a complaint against the singer and the show organizers citing that the star has broken their law banning "gay propaganda" during the concert, The Moscow Times reported.
According to the daily, the 'Material Girl' allegedly disseminated homosexual propaganda in the presence of children and minors who attended her concert.
During her performance, the singer said on stage, "We want to fight for the right to be free, to be who we are. I've traveled the world a lot and seen that people are becoming more and more intolerant, but we can change that," The Moscow Times reported.
The 53-year-old singer also revealed her bare back with "No Fear" written across it.
"Madonna or the organizers need to be brought to justice. The news agency identified the organizers of the concert as the company Petersburg Music Industry, or PMI," Valdmir Milonov, a local deputy who claimed that minors including 12-year-old were also present at the concert, told the daily.
Meanwhile, the organizers have claimed that the passes had clearly stated that children below the age of 18 were not allowed to attend and that they are planning to take legal action against Milonov, alleging that his supporters illicitly captured photographs and video taped the concert without permission.
Dmitry Rogozin, the deputy Prime Minister called the iconic singer a "whore" on a social media site, prompting a fierce debate among the Tweeples.
"Every ex-wh*re tends to lecture everybody with age. Especially during world tours and concerts," he wrote on micro-blogging site Twitter.
The "homosexual propaganda law" prohibits public promotion of homosexuality among minors and calls for a fine of $32 (Rs. 1,769) for individuals and $1,630 (Rs. 90,106) for legal entities.