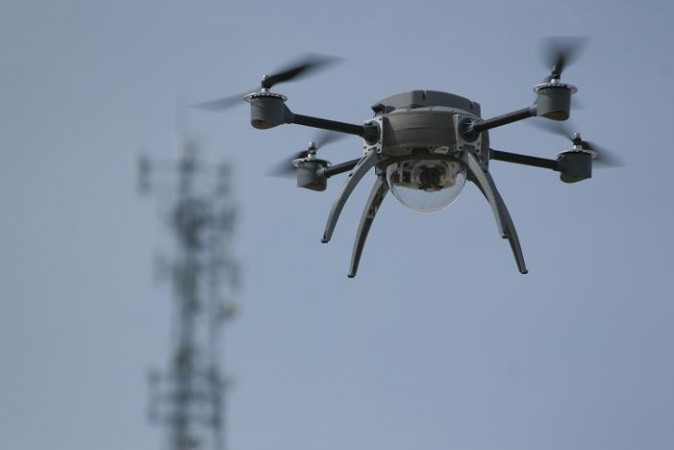 The Madhya Pradesh police have asked the Director General of Civil Aviation (DGCA) if it gave permission to a Mumbai-based marketing company that strapped 3D idols of Lord Hanuman to drones and flew them around some cities in the state.
Four rotor drones were used to promote a TV show, Sankatmochan Mahabali Hanuman, 17 months ago. Using unmanned aerial vehicle (UAV) technology to promote a TV serial was piloted in nine cities, including Bhopal, Lucknow, Ludhiana, Allahabad, Nagpur, Varanasi, Indore, Pune and Jaipur.
"The drones flew and descended at busy market places grabbing huge attention. Many devotees gathered and some were seen chanting Hanuman Chalisa on the spot too," Shibu Chaudhary, an eye-witness at Chola Mandir, was quoted saying to the Times of India.
However, the matter was taken to the Ayodhya Nagar police station for investigation after VK Naswa, a social activist, raised the issue and demanded registration of FIRs against the company at TT Nagar, Shyamla Hills, Govindpura, Ayodhya Nagar and Habibganj police stations wherein drone-strapped idols of the deity were flown on May 3, 2015.
"They not only trespassed air space, but could have triggered a law and order situation by flying a model of a Hindu deity," said Naswa. An RTI reply confirms the company had no prior permission from the DGCA.
"Initially, there was confusion on action to be taken against the company. A letter has been sent to DGCA for appropriate action. Drones pose a security risk and events like this invite flash mobs," said sub-inspector Nirbhay Singh Bhadoria, investigating officer (IO), Ayodhya Nagar police station.
The DGCA banned the launch of UAVs by any non-government agency, organisation or individual on October 7, 2014, saying drone operations at or above 200 feet above ground level in uncontrolled airspace will require its permit. Also, operation of civil UA in controlled airspace is restricted under the prevailing norms. However, according to guidelines, civil drone operations below 200 ft from the ground level in uncontrolled airspace will not require permission.