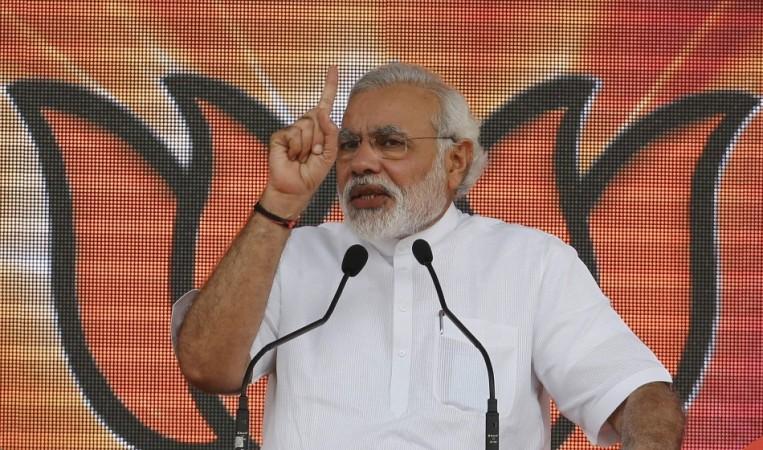 Bharatiya Janata Party's (BJP) prime minsterial candidate Narendra Modi slammed the claims of 'pro-poor' policy by Congress Vice President Rahul Gandhi, saying that a person who resides in a 'palace' could not understand how a man lives in poverty.
Ahead of the Madhya Pradesh assembly elections, scheduled for 25 November, Modi denied the corruption charges levelled by Congress supremo Sonia Gandhi in a recent rally in the poll-bound state.
During the Jhabua rally, Sonia alleged that funds by the Centre worth several crores were granted to the Shivraj Singh Chouhan government which is counted among the poorest in India.
"Despite all this money, Madhya Pradesh continued to be in a poor state with rampant malnutrition, suicides by farmers and non-availability of seeds and fertilisers. The Centre sends money to states for the welfare of the people and not to fill the pockets of only a few persons," Sonia had said.
Modi also attacked Union Law Minister Kapil Sibal who had recently challenged the Gujarat CM for a one-on-one public debate.
Here are the highlights of Modi's rally in Khandwa, Madhya Pradesh
Wherever there are BJP governments, Gujarat, Madhya Pradesh, Chhattisgarh, there political pundits have had to think beyond anti incumbency.
BJP has shown what Sushasan and Surajya can be. It has shown that a Government can be for the poor. I have come here to congratulate Shivraj Singh Chouhan (MP Chief Minister), Narendra Tomar ji (BJP MP) and the team, because the state government has been one for the poor. MP government made efforts to make poor stand on their own feet, gave them opportunity and strength
When there is a meeting with the Prime Minister (Manmohan Singh) we all are eagerly waiting for Shivraj ji to speak and share his insight
You gave BJP 10 years and MP has been removed from the BIMARU states. Do you remember how MP was 10 years ago.
Shivraj ji has taken agriculture, tourism to newer heights. MP has tremendous potential in building tourism. Centre is not bothered and earlier the Congress government in the state was also not bothered
Has Congress ever fulfilled the promises it made? It promised to reduce prices in 100 days. Did that happen
These people who stay in palaces, what do they know how India's poor live
Money with which development works happen belongs to the people. Then how can the central government allege that it belongs to us
We have a Government in Delhi that steals coal. When Supreme Court rebuked them they said file is lost. And now people are saying the government is lost
Who insulted dignity of the office of PM (referring to Congress VP Rahul Gandhi's comments on the ordinance on convicted MPs)? What happened when you had gone to USA? Who called Cabinet's work as nonsense and said tear it?
There is a big intellectual Minister (Congress minister Kapil Sibal, Union Law Minister) - he said prices have risen because onions are no longer grown in Kutch. Who will tell this Gyaani Minister that there is desert in Kutch. There was no water earlier, forget cultivating onions. The Gyaani Minister said something more - that a poor man used to eat only one Roti but now he eats it with 2 pulses on the side. So prices are rising
Government in Delhi is phenomenal. They have a policy saying 'Export cotton and pay tax, export mutton and get subsidy'
Despite orders of the SC, Centre did not give wheat to the poor. Instead they gave it to alcohol manufacturers. Instead of filling stomachs of the poor they are interested in filling bottles of alcohol
Congress arrogance is sky high. They are neither answering for their work nor for their sins. Do not let them come to MP