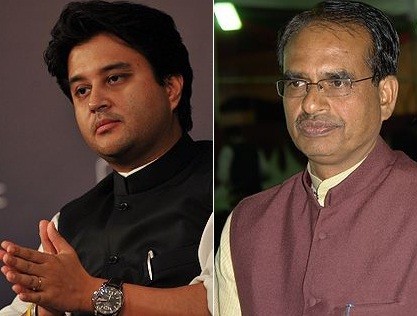 The single-phased assembly elections in Madhya Pradesh saw a moderate voter turnout with two major political parties, Congress and ruling Bharatiya Janata Party (BJP), sensing victory in more than 50 percent of the Vidhan Sabha seats.
Polling began at 53,946 polling stations in the state at 8am on Monday, with an exception of three constituencies in Balaghat. In the Naxal-hit district, polling began at 7am and will go on till three in the afternoon.
The total voter turnout to elect 230 MLAs to the 14th Madhya Pradesh Assembly was 71 percent, All India Radio reported.
Nine voting booths, including the ones at Ratlam, Gwalior, Raisen , Morena, Umeria, Betul, were boycotted by the electors.
Despite heavy security, rebels fired at more than seven booths in Chambal region. Two cases of looting Electronic Voting Machines (EVMs) were also registered, reported The Times of India.
There have been 552 companies of security forces and more than 40,000 home guard soldiers deployed for the polls. Two helicopters were keeping vigil in the Balaghat and Singrauli districts.
However, the firing at booths in Bhind and Morena injured nearly two dozen people, with few in critical condition.
Chief Minister Shivraj Singh Chouhan along with his family casted their votes from Jalit village in Bhudni.
"Madhya Pradesh has changed in last five years. I have a dream to make Madhya Pradesh one of the best states in the country. From a BIMARU state we are heading quickly towards a developed one, this vote is for the future of MP. Hum honge kaamyaab (We will be victorious)," he told ANI after casting his vote.
The BJP has been ruling the state since 2003 when Uma Bharti won the assembly polls with a clean swipe in 173 seats. However, this number declined in 2008 polls with BJP having 143 seats and Congress gaining control in 33 of its constituencies, resulting in 71 seats under the INC.
"I am sure we (BJP) will take over in seats more than what we had during the last polls," an elated Sushma Swaraj told ANI after casting her voter in state capital Bhopal. "I have cast my vote in Bhopal. There is great enthusiasm among the voters in Madhya Pradesh," she tweeted later.
Her passion was shared by BJP leader Kailash Vijayvargiya who said, "We are confident of winning at least 160 seats in Madhya Pradesh."
However, Congress leader and Urban development minister Kamal Nath said that his party will claim victory in at least 140 seats.
"The BJP doesn't have any other prominent face in their ranks, other than the Chief Minister. That's why they have been showing his picture everywhere. And people have seen this face and know the artistry of the BJP," he said after casting his vote in Chhindwara's Shikarpur.
Jyotiraditya Scindia, the projected chief ministerial candidate of Congress who also belongs to the former royals in MP, said, "Voting is going on well, I am very confident that Congress is going to form the government in Madhya Pradesh."