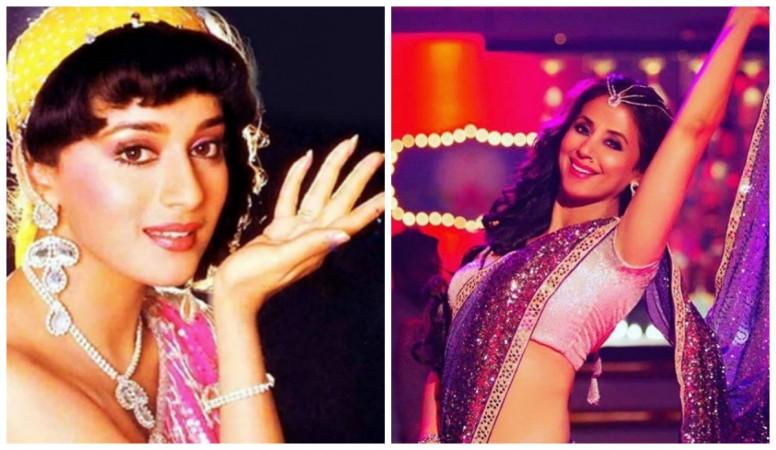 Two veteran Bollywood actresses – Madhuri Dixit and Urmila Matondkar – are in the news these days. While the Dhak Dhak girl is being talked about for the new version of her popular song Ek Do Teen, Matondkar made headlines for making a comeback on the big screen after a decade.
Although it's Matondkar who has made a comeback and hence should have garnered more attention. But it seems people are more interested in searching for Dixit on Google.
The revised version of Dixit's Ek Do Teen from the movie Baaghi 2 featured Jacqueline Fernandez. It doesn't have the iconic actress anywhere in the scene, but she is being talked about as comparisons are being made between Fernandez and Dixit.
On the other hand, Matondkar, who once ruled millions of hearts with her dance moves and seductive expressions, made a re-entry into the big screen with a song titled Bewafa Beauty from the film Blackmail.
A look at Google Trends on Thursday shows that the term "madhuri dixit" is being searched much more than "urmila matondkar" in India.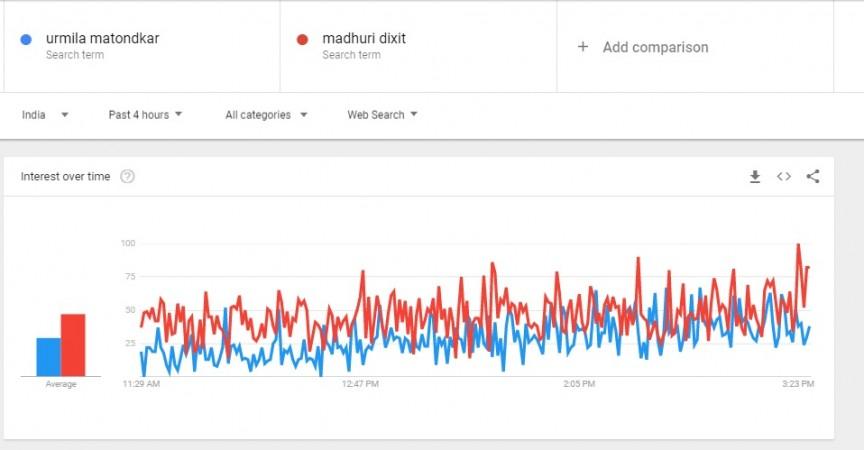 A deeper look into the chart revealed that Matondkar is being searched mostly in the southern region of the country including Tamil Nadu, Karnataka, and Kerala. Search interest for Matondkar is also more than for Dixit in Jammu and Kashmir, Uttarakhand and Tripura. However, Dixit is searched for more in all other parts of the country.
Meanwhile, both Matondkar's new song and the remixed version of Dixit's song have been getting a mixed reaction from the viewers.
Many netizens have slammed Fernandez's attempt at recreating the iconic song Ek Do Teen, saying that the new version ruined the magic of the old classic. However, many also supported Fernandez, stating that she did justice to the song. They pointed out that comparing her with Dixit was unfair. There has not been any reaction from the Tezaab actress yet.
Matondkar, who is seen shaking a leg in the Bewafa Beauty song, which, however, failed to impress many. While some are happy to just see the Chamma Chamma girl on the celluloid after 10 long years, many others opined that she deserved a better comeback than this.