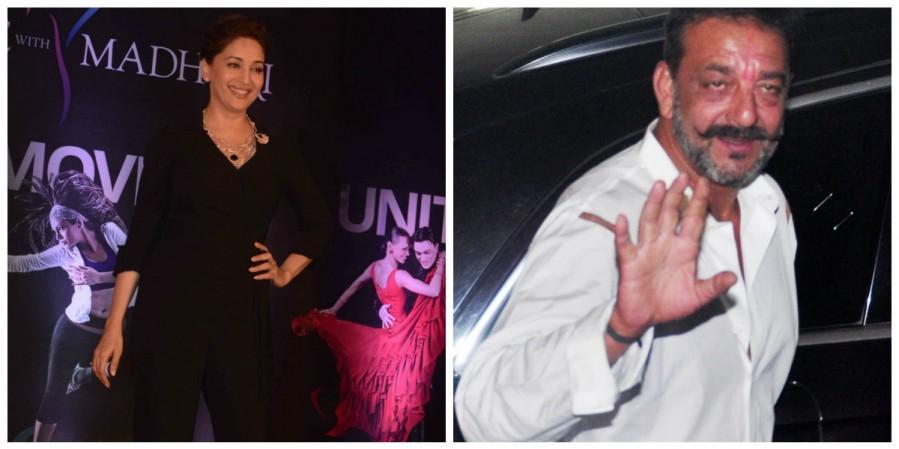 Ever since the announcement of Madhuri Dixit replacing Sridevi for an upcoming Karan Johar movie was made, many got excited to see the Dhak Dhak girl sharing screen space with Sanjay Dutt again.
While it is not confirmed whether the film would actually feature Sanjay or not, the excitement is based on the initial rumors of Sanju baba being part of it. The entire speculation started after Sridevi's daughter Janhvi Kapoor made the announcement on Instagram.
"Abhishek Varman's next film was very close to mom's heart ...Dad, Khushi and I are thankful to Madhuriji for now being a part of this beautiful film... [sic]," she had posted with a picture of Sridevi and Madhuri together.
Although she did not mention the title of the film, people believed it to be Shidhat that would reportedly feature Sanjay along with Varun Dhawan and Alia Bhatt.
Seeing the rumors going too far, producer Karan took to social media, and cleared the air writing, "Some clarifications!!! Yes...we are honoured and humbled to have @MadhuriDixit on board for @abhivarman 's next! NO the film is NOT titled SHIDHAT! Yes the film will Commence shoot in mid April! The films final cast and credits will be announced soon! [sic]"
However, it is still unknown if the film would present Sanjay and Madhuri together, the craze around the two is more due to their alleged past affair.
There had been reports claiming that Sanjay and Madhuri were involved in a romantic relationship when the actor was already married to his first wife Richa Sharma. Their alleged affair ended after Sanjay got dragged into the TADA (Terrorist and Disruptive Activities Prevention Act ) case.
Apart from these stories, there is an interesting throwback incident where Sanjay said that Madhuri should quit acting and take care of kids when the actress had made a comeback on the big screen post her pregnancy.
Sanjay made the remarks during one of his appearance at Koffee With Karan in 2010. The host asked him whether he had met Madhuri after her return to Bollywood.
"No, I have heard she is. But I just want to tell her to go home and take care of the kids," Sanjay replied, according to Zoom.
When Karan further asked him if Sanjay did not want Madhuri to make a comeback, the 58-year-old actor said, "Be with the children, abhi kya acting karni hai (what acting she has to do now!)," the report stated.
Well, Madhuri certainly wouldn't have liked to hear those words from Sanjay.