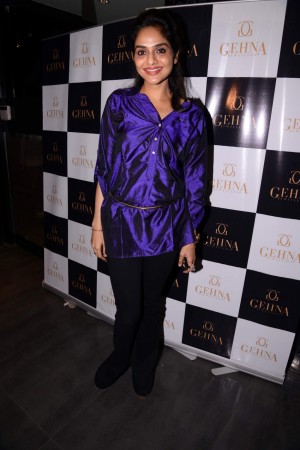 South actress Madhoo has signed up for director Balaji Mohan's upcoming bilingual film.
Almost 21 years after the release of her last Malayalam film "Yodha", the 41-year-old actress will play a pivotal role in the Tamil-Malayalam film, which stars Mammootty's son Dulquer Salmaan and Nazriya in the leads. While the Tamil version is titled "Vaai Moodi Pesavum", the makers are yet to decide on a title for its Malayalam version.
Madhoo said she had initially refused to take up the role but changed her mind after learning more about the film. "I play a writer - a confused modern woman who gives up her career to settle for holy matrimony. It's a progressive, experimental film that shows how lack of communication or miscommunication can cripple relationships," she told Deccan Chronicle.
Talking about lead pair in the film, Madhoo said, "Dulquer is an immensely talented boy and is sure to go places. He is very serious and focused about his work. As for Nazriya, there is this innocent confidence that she exudes; she keeps prancing around the sets but when the camera starts rolling, she brings a melody of emotions on that pretty face. She's already a sensation. She reminds me of my daughters."
Out of over 40 films in various languages to her credit, the actress has starred in just four Malayalam films. When quizzed about it, Madhoo said she isn't fluent with the language and finds it quite challenging compared to other languages.
Her upcoming film has several moments that she can relate with in her life and it was this aspect that led her to take up the offer. "I could see a lot of me in the character. I quit films to start a family. My kids miss me when I am shooting, but kids today need to understand that their mothers too have a life outside the kitchen," she said.
The actress, who has been on a sabbatical from acting post her marriage in 1999, started her career with Mammootty's Malayalam film "Ottayal Pattalam" in 1992. She went on to explore other film industries where she bagged roles in Maniratnam's acclaimed film "Roja" and Shankar's "Gentleman".