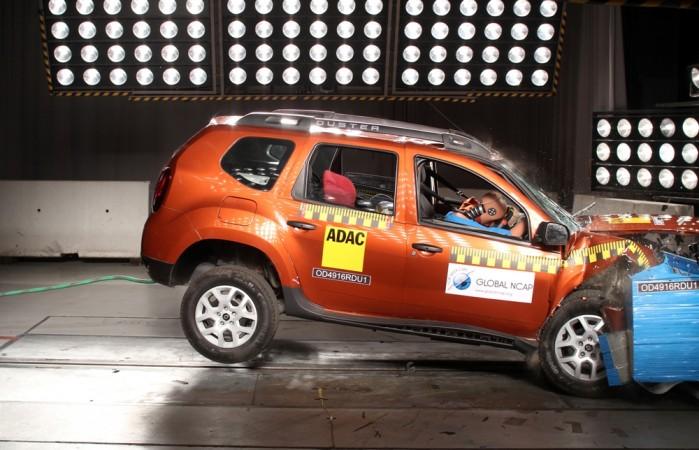 In the new crash tests conducted by global safety watchdog Global New Car Assessment Programme (Global NCAP), Renault Duster SUV's basic model that comes without airbags recorded a disappointing zero stars for adult occupant protection. The same model has also scored 2 stars for rear seat child occupant protection.
Also read: Suzuki Ignis gets 3 stars in Euro NCAP crash test
Global NCAP also the tested the Duster model with single driver airbag and it scored 3 stars for adult occupant protection while child protection remained the same at 2 stars. This indicates how important airbags in cars for increased safety.
Interestingly, Global NCAP also compared the results with the Duster airbag version tested by Latin NCAP in 2015 where it scored 4 stars. It was found that the airbag in Indian model is smaller than that of the Latin American Duster. In the India-spec Duster, the head of the driver did not contact the airbag in the centre as it should, exposing the head to impact on the steering wheel and therefore more risk of injuries, NCAP reports added.
"It is troubling that during the UN Road Safety Week we yet again encounter a zero star car in our crash testing in India. Renault produces the Duster in a number of markets and yet it seems content to provide a version for India which falls so far short on safety," said David Ward, Secretary General of Global NCAP said. "The version of the Duster with an airbag scores three stars, but this too fell short as it was fitted with a smaller airbag. A model with a correctly sized airbag should be provided as standard."
During the Global NCAP crash test in May 2015, Renault's small car Kwid also scored zero stars. Later in September, airbag equipped version of the Kwid scored just one star.