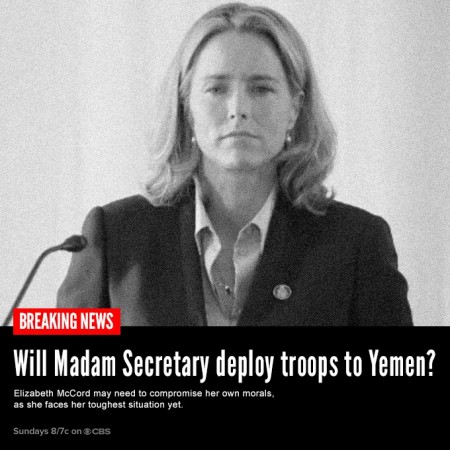 "Madam Secretary" will once again take the viewers to an international challenge the US faced with radical Islam in the 21st century when the show returns on CBS at 8:30pm on Sunday.
The premiere of "Madam Secretary" was one of the most welcome moments of this fall with 14.7 million viewers. The political drama, which stars Tea Leoni as the new Secretary of State Elizabeth McCord, kicked off with a real-life event: The recent execution of American hostages.
The next episode of the CBS's political drama will focus on the Benghazi attack of 2012, which led to many criticisms against the then Secretary of State Hillary Clinton.
The official synopsis of "Madam Secretary" season 1 episode 2 titled "Another Benghazi" reads, "While in the process of dealing with a crisis in Yemen, Elizabeth faces a challenge at home when her oldest daughter makes headlines for protesting her university's new policy."
The show, which is said to be Clinton's 2016 campaign, may take the viewers through an important segment from the life of former US Secretary of State, reported Frontpage Mag.
If the political drama recreates the Benghazi attack through its next episode, the on-screen Secretary of State could fail in her new task.
But previously, the showrunner Barbara Hall revealed that the political drama will highlight the real working atmosphere of the US State Department during the press tour of Television Critics Association, reported Los Angeles Times.
"Madam Secretary" will have "a little less heightened reality than that. We're really trying to pull back the curtain on how the state department actually works," she said.
However, the on-screen Secretary of State McCord seems to be going through the toughest time of her life as she will have to simultaneously tangle both professional and personal challenges.
The recently released promo of the second episode of "Madam Secretary" shows the shrewd and determined officer McCord as clueless and struggling to resolve the Yemen crisis.
The viewers will have to wait until Sunday to know more about the Benghazi attak and the impact of it on McCord.
Watch the next challenge of Elizabeth McCord below: