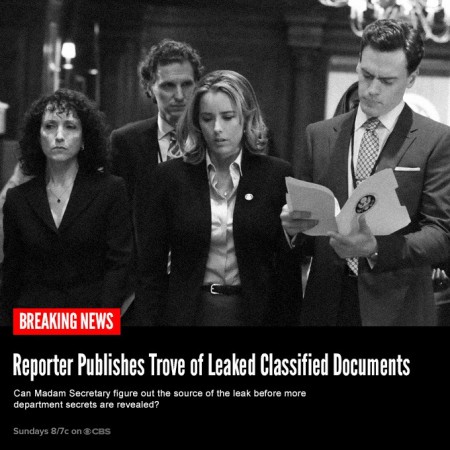 The Secretary of State Elizabeth McCord (Tea Leoni) will have to deal with lot of professional challenges when "Madam Secretary" returns on CBS this Sunday.
The official synopsis of "Madam Secretary" season 6 episode 3 titled "The operative" reads, "A hostile reporter confronts Elizabeth, threatening to publish confidential documents that were leaked from inside the State Department. Meanwhile, Henry ends up in the middle of an international negotiation when his wife uses his job as leverage to broker a deal with Pakistan."
In a 30-second-long teaser, a young journalist informs McCord, "Madam Secretary, I have got evidence of the US spying on France. What do you have to say about that?" and the Secretary of State realizes that national security is under treat.
She informs her colleagues, "This will block our politics all over the world." Later on, McCord will be asked by the President and the Chief of Staff to find a diplomatic solution for the issue.
Meanwhile, McCord will get deep into the issue and through Daisy Grant (Patina Miller) she will find that the source for the information is Jedd Heller, a former employee of the US Secretary of State. Grant informs her that he used to work as an analyst at the Bureau of Intelligence and Research (INR) and he left the job five months ago, as per Spoiler TV.
She also tells the Secretary of State that Heller was part of the State Department at the time of her predecessor Vincent Marsh. But McCord asks Grant to immediately inform the media about Heller in order to prevent the nation from the crisis. The Secretary of State also decides to execute him if he is caught.
Meantime, the young reporter publishes the information that she obtained from Heller and McCord tries hard to tighten national security to prevent more confidential information from the US State Department from being leaked out.
However, it remains to be seen whether "Madam Secretary" will have to compromise with multiple international players or stop more confidential information from the US Department of State being leaked out.
Watch the teasers of "The Operative" below: