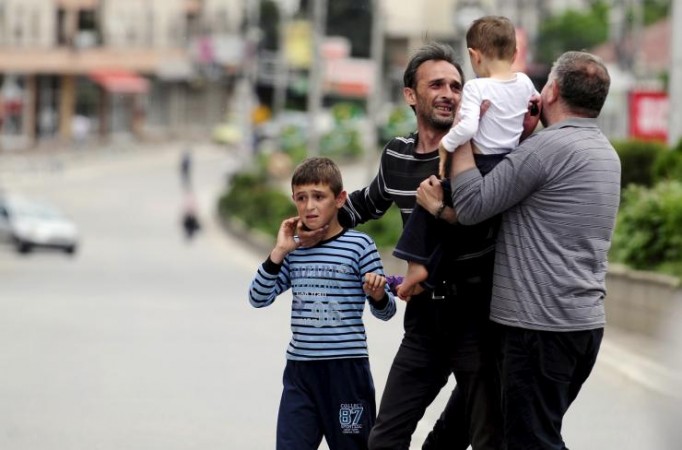 A major military offensive, claimed to be aimed at neutralising a 'coordinated terror attack' allegedly by the disbanded ethnic Albanian Kosovo Liberation Army, has once again reignited communal tensions in the Republic of Macedonia.
In the counter insurgency operation carried out by the Balkan country's armed forces, 22 were killed, including eight police officers and 14 armed attackers. Also, 37 policemen were wounded in the terror raid.
The anti-terror operation that took place in the mainly Albanian neighbourhood in the northern town of Kumanovo started on Saturday and went on till Sunday morning.
Calling it a "coordinated terror attack," Macedonian President Gjorge Ivanov stated that the gunmen wanted to disrupt peace in the former Yugoslav republic.
"The perpetrators of this terrorist act and all those involved will pay dearly for what they tried to do to the Republic of Macedonia and its citizens. I want to clearly point out that we will not allow escalation of tensions," Ivanov added.
Local TV reports show a large contingent of armoured military vehicles around a residential area in Kumanovo where the purported counter-terror operation took place. A Reuters journalist at the site saw residents scurrying towards their homes through streets stained with blood late in the night on Saturday.
The Macedonian interior ministry spokesman later stated that the attackers were led by former rebel commanders from Kosovo. A police personnel from the area told a local station that there were five Kosovo rebel commanders who killed in the attack including a few Macedonian nationals, who were part of the Albanian Kosovo Liberation Army.
Kumanovo residents were deeply sceptical of the official version of the events. "Me, like other citizens, we are surprised and no one knows what and why this happened. I know during the war in 2001 we were informed and we have supported these groups that were fighting for the Albanian cause but now it is the contrary," local resident Xhelal Ademi told Reuters.
"The people in this region were guarding their villages to not let anyone infiltrate from outside our villages," Ademi added.
This incident came days after thousands of opposition supporters joined nation-wide protests blaming the government for covering up the death of 22-year-old Martin Neskovski, who had died of wounds received after being beaten by an interior ministry policeman in June 2011.
Since then tensions in the Balkan nation has been on a rise as the opposition has blamed the ruling conservative coalition for a massive wiretap campaign, Euro News reported.
Watch the video below