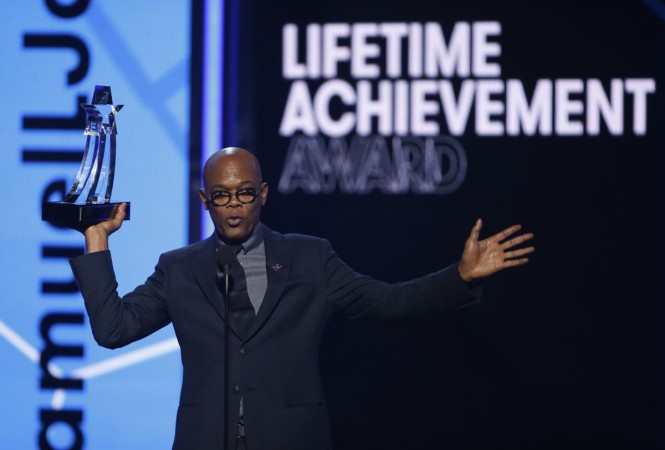 Mace Windu was probably the only Jedi warrior in the Star Wars universe who was known for his unlikely strategies and ruthless manners, traits which were very unusual for a Jedi. Unfortunately, even though he acted swiftly and tried his best to put an end to Palpatine's (Darth Sidious) evil plan of seducing Anakin Skywalker to the Dark Side, he was killed in the process, and that too in a not-so-dignified manner.
Though Windu failed in his attempt to stop Palpatine, Samuel L. Jackson, who portrayed the character in the Star Wars prequel trilogy, recently revealed that Windu might have survived the attack and was still alive after the events of "Revenge of the Sith."
In the movie, Anakin chopped Windu's arm and he was thrown outside the upper levels of Coruscant by Palpatine. Afterwards, there was no mention of him in the movie and he was assumed to be dead. However, Jackson has said that he thinks Windu survived the fall.
His response came to a Twitter question where he was asked, "Who's idea was it to kill Mace Windu? Just curious. He's a great character. [SIC]" Jackson tweeted his answer that stated, "In my mind, I'm not dead. Jedis can fall incredibly high distances and not die."
.@starwarsgirl1 #IMDbAskSamJackson pic.twitter.com/aSZ0uwHUpz

— Samuel L. Jackson (@SamuelLJackson) June 25, 2016
"And there's a long history of one-handed Jedi. So why not?" Jackson further said.
Jackson also revealed that George Lucas, the creator of the Star Wars franchise, also agreed with his views. According to him, when he asked Lucas whether Windu survived the fall or not, Lucas answered, 'I'm okay with that. You can be alive."
None of it means that Windu is alive, as these are just opinions and speculations. However, if the filmmakers seriously ponder over Jackson's interpretation, there is a significant possibility that the fans will get to see their favourite Jedi again. Anything regarding it is yet to be confirmed officially.