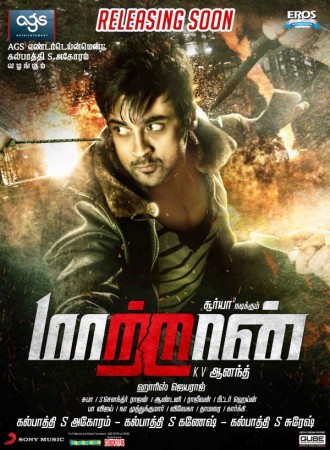 The ongoing Cauvery dispute has affected the release of action-thriller "Maattrraan in Karnataka. The Tamil film, starring actor Surya, hit worldwide screens on Friday.
Most of the recently released Tamil films like Vikram's "Thaandavam", "Sundarapandian" and other movies are taken off cinemas screens by exhibitors, fearing violence by pro-Kannada groups.
"Maattrraan" is not available for booking on Bookmyshow site. Surprisingly, there is no Tamil film category in the drop-down list of the movie selection field on the ticket booking website. Also, there are no reports of any single screen showing the new film across the state.
However, the Telugu version of the film titled "Brothers" will be screened across several theatres much to the relief of Surya's Telugu fans living in Karnataka. The film was released on Oct 12 - the same day when the Tamil version was expected to be screened.
The Tamil and Kannada film industries are still at loggerheads over several political issues. During the time of dissent between the two neighbouring states, theatres screening Tamil films in Karnataka were attacked and the same incident happened in Tamil Nadu.
In 1991, Karnataka witnessed the worst of the Cauvery riots and Tamil films were banned for almost a year. Since then, every time the two state governments whip up tensions over the water-sharing issue, Tamil movies face temporary suspension.
In a bid to avoid such occurrences this time, theatre owners have suspended the showing of Tamil films.
Karnataka has a very good market for Tamil movies as Tamils significantly contribute to the state's population. Many of the big star films open to a massive response at the box office in the state. The ban on the films would mean a huge dent in profits for Tamil filmmakers.
Protests have been ruling the streets of Karnataka for the past few weeks over the Centre's decisions and the Supreme Court directive to release 9,000 cusecs of water to Tamil Nadu on a daily basis.