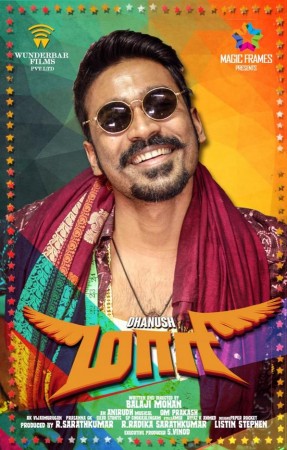 The most-awaited teaser of "Maari", featuring Dhanush, has been released, and as expected, it is nothing short of mass appeal.
Directed by Balaji Mohan, "Maari' comes with a lot of expectations. The team had recently wrapped up the shooting of the film and is planning to release it soon. With printed shirt, gold chain, well-shaped moustache and dark-glasses, Dhanush is seen in an entirely new get-up.
The teaser scene appears to be taken from a fight sequence, in which the actor makes a stylish entry. The background score, "The Maari Swag", composed by Anirudh Ravichander adds to the teaser's charm.
Basking in the success of his latest movies like 'Shamitabh" and "Anegan", Dhanush has reportedly gone versatile in "Maari" as well.
Meanwhile, director Mohan is well-known for films like "Kadhalil Sodhappuvadhu Eppadi" and "Vaayai Moodi Pesavum." Both the films were critically-acclaimed and did a decent job at the box office.
Kajal Aggarwal will play the lead opposite Dhanush and the rest of the star cast include Vijay Yesudas, Robo Shankar, Kaali Venkat and Arjuna. The cinematography is handled by Om Prakash and the film is produced by Sarathkumar, Radhika Sarathkumar and Listin Stephen under the banner of Magic Frames.
Meanwhile, fans are completely charmed by the teaser of "Maari".
Here are some of the Twitter responses:
#maari teaser @dhanushkraja gethu entry #maarimeesai #maariglasses sema - wishes to @directormbalaji @anirudhofficial #localdna

— Eswarraj (@EswarrajS) May 20, 2015
Can't wait for your next super album from #Maari rockstar @anirudhofficial thalapathy style'le solanum'na #ImWaiting pic.twitter.com/KC8WUvOa86 — Lydiaofficial (@DiaDiyaAnirudh) May 20, 2015
#Maari Thalaiva.....once again meratal look....and thaarumaru music .... Waiting for naanga thara local......... http://t.co/x3eZfwscym

— tamizhanban (@clarketamizh) May 20, 2015
#RockStar therikka vitutta...#Tharalocal BGM..#Dhanush oops Not Dhanush #Maari #Tharalocal...✨@anirudhofficial pic.twitter.com/aEE6zbrs9d — Tharanidharan (@Tharanidharan_9) May 20, 2015
#Maari First Look Teaser @dhanushkraja @anirudhofficial @directormbalaji @SonyMusicSouth http://t.co/xowRdYxS75

— LI(O)VING LIFE ✨ (@keshavchowdary) May 20, 2015
@dhanushkraja what a mass teaser, Expectations ll go high for sure. Congrats to director sir. #Maari — sridharkv (@sridhark750i) May 20, 2015
@dhanushkraja Killer teaser #Maari

— ηιsнαηтнαη s (@nish_247) May 20, 2015
Thalaivaaaaaaaaa _/_ #Maari Dawwwwwwwwwww............., #Edhu_Vera_Maari B| — Vicky Lenzer (@iam_vlz) May 20, 2015
@dhanushkraja thalaiva tharu maaru superroooooooooooooooooooo super. #maari Rockzzz...

— @I'm_lk (@KarthikLk143) May 20, 2015
Watch 'Maari' Teaser below: