Actor Arulnithi got engaged to Keerthana, the daughter of a former Madras High Court judge, at a small function held at a star hotel in Chennai on Monday evening. The event was restricted to the family member and close friends of Arulnithi and Keerthana. The couple exchanged the rings as per the traditions.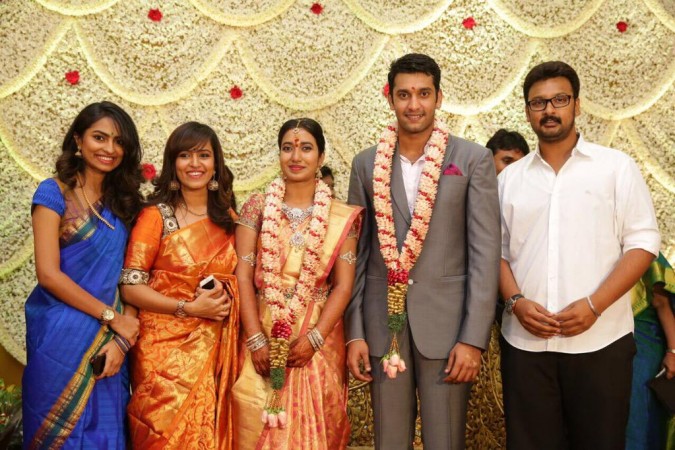 Arulnithi announced the news on Twitter and posted a picture with a caption, "Big day for me ... I'm engaged ..." His cousin and producer Dhayanidhi Alagiri took to Twitter and congratulated the couple.
Dhayanidhi Alagiri wrote, "Congrats @arulnithitamil and Keethana ! So happy for the both of u ! U guys look amazing together..." The groom responded, "@dhayaalagiri thanks a lot Durai ...thank u so much for everything and being there through out ..."
Anusha, Dhayanidhi's wife, joined their conversation and wished Arulnithi by posting, "So our fav person in the family is engaged ! ☺️❤️ @arulnithitamil congrats ma ! Need all ur blessings & wishes"
Arulnithi was obviously happy by her gesture and wrote, "@anushadhaya @dhayaalagiri thanks a lot :))))))) Anush n durai..u both made my engaged even better .everyone loved the suit.love u both".
However, the wedding date has not been revealed yet. Arulnithi is the grandson of former Tamil Nadu Chief Minister M Karunanidhi and son of M K Tamilarasu.
Arulnithi started his acting career with "Vamsam" and his biggest hit till date is "Mouna Guru". His next releases are "Naalu Policeum Nalla Irundha Oorum" and "De Monte Colony".