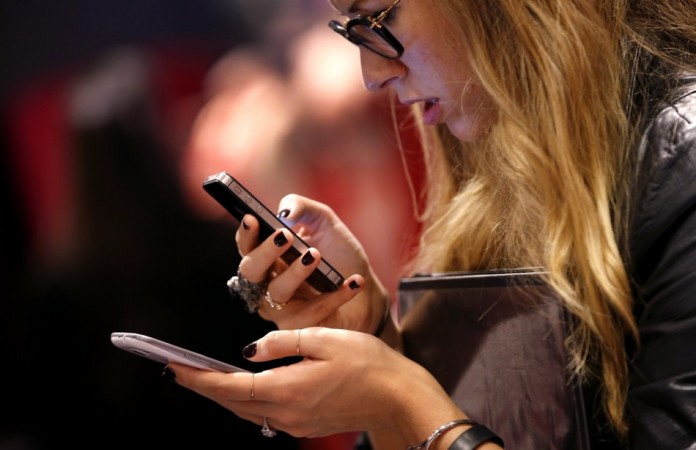 Earlier in the week, Microsoft launched a new budget selfie smartphone, Lumia 535 in India.
Prospective consumers who are looking for an affordable smartphone with a front-camera for video chatting can also check out Samsung Galaxy Grand Prime, Lava Iris Selfie 50 and Panasonic Eluga S as well.
To get a better perspective on these smartphones, we have compiled a list of key specifications of these devices:
Display
The new Microsoft Lumia 535 and Samsung Galaxy Grand Prime sport 5.0-inch qHD (960x540p) IPS LCD screen with a pixel density of 220ppi (pixels per inch).
On the other hand, Panasonic Eluga 5 boasts richer 5.0-inch screen with HD (1,280x720p) resolutions.
Among the competitors, Lava Iris Selfie 50 features a modest display specification with 5.0-inch FWVGA (854x480p) screen. However, with a price tag of sub-₹7,500, we cannot ask much from this device.
Processor, RAM and Storage
In this aspect, the Panasonic phone comes on top as it boasts of Octa-core CPU; all other three smartphones pack pretty much same hardware like quad-core processors and house 1GB RAM and expandable memory.
Samsung phones comes packed with 1.2GHz quad-core Snapdragon 410 series processor (with Adreno 306 GPU), 1GB RAM, 8GB inbuilt storage (expandable up to 32GB).
On the other hand, Lumia 535 ships 1.2GHz Snapdragon 200 series quad-core processor, coupled with Adreno 302 graphics engine, 1GB RAM and 8GB inbuilt memory (expandable up to 128GB).
Lava phone houses 1.2GHz quad-core CPU (unknown chipset) with 1GB RAM and 8GB inbuilt memory with option of expansion up to 32GB via microSD card slot.
[Note: More the number of cores, more efficiency in the performance of the device]
[Also read: Motorola Moto G (Gen 2.) vs. Nokia Lumia 730 vs. Galaxy Grand Prime vs. LG L Bello: Specifications Comparison]
Mobile Operating System:
In this aspect, three smartphones, Galaxy Grand Prime, Iris Selfie 50 and Eluga S have some advantage over Lumia 535 as they run on the ubiquitous and most popular mobile operating system Android, which has huge collections of value-added apps compared to Windows Phone OS ecosystem.
That being said, Google's mobile OS too has some share of negativity as Android users need to be very careful while installing apps from Play Store online, which is riddled with malicious apps. If precautions are not taken, users may end up installing spywares and malwares disguised as value-added apps and end up losing sensitive personal information.
Case in point, recently found –POODLE vulnerability found in SSL (Secure Socket Layer) v3 protocol, which is used by almost all Internet browsers found in Android devices.
This loophole in the internet protocol gave leeway for hackers to cause connection failures and trigger the use of SSL 3.0. Hackers exploited this to steal sensitive data from Android devices. [More information, HERE]
Thankfully, it has been fixed by Google, but still users are advised to be cautious before installing apps published by unknown developers.
Samsung, Lava and Panasonic devices run on the same Android 4.4.2 KitKat OS.
Microsoft's Lumia 535 runs on the company's proprietary Windows Phone 8.1 OS (with Denim update). It boasts of intelligent Cortana voice-assistant search support. Users can just speak to the phone to perform functions like send/read new messages and suggest eateries nearby.
This intuitive digital assistant is capable of learning owner's behaviour over time and store information (with permission) to use it to make recommendations and suggestions tailored specifically to the user and is adept at setting calendar appointment and also offers the ability to proactively warn you when it's time to leave for your next appointment or remind you to pick up milk on the way home.
The only drawback of Nokia Lumia 535 (and other Windows OS phones) is that it lacks in number of value-added apps compared to Android ecosystem, which has vast collection (close to a million) of applications.
[Note: Android users can also use voice-command features via 'Google Now' from phone's home screen, but it is not that intuitive compared to Cortana as well as Moto X's voice-control feature– 'Ok. Google Now'.]
[Also Read: Micromax Canvas 4 Plus A315 with Octa-Core CPU Goes on Sale in India; Price, Specification Details]
Camera Specifications
This is the most important aspect of this comparison story; going by the value-added features offered in the devices, Panasonic phone trumps Lava Iris Selfie 50 by a close margin thanks to gesture control feature.
Eluga S boasts a 5mp snapper on the front with Blink Play feature, upon activation, just an eye-blink will set-off a 3-second countdown to capture photo on the front side.
On the other hand, Lava Iris Selfie 50 is adorned by a 5mp front-facing camera with flash and auto-focus features.
Microsoft Lumia 535 is no less of a competitor; it too flaunts a 5mp wide-angle snapper on the front. The front-camera also features f/2.4 aperture, 24 mm focal length, still image capture, video call (via Skype), video-recording ability. It is specifically targeted to attract budget-conscious youth.
Samsung Galaxy Grand Prime too houses a 5mp front camera with wide-angle (85-degree) lens as well as wide array of apps to enhance photography experience.
Except Lumia 535, all three feature 8mp camera on the rear side, where as the Microsoft phone features less impressive 5mp snapper.
[Note: More mega-pixel count in the camera does not guarantee a good quality photograph. It all depends on the type of the lens, size and aperture.]
[Also Read: Motorola Moto G (Gen 2.) vs. Micromax Canvas Nitro A310: Specifications Comparison]
Price:
India being a price sensitive market, price plays a crucial role in the minds of youth and the middle-class working population who form the big chunk of the Indian demography.
[Also Read: Motorola Moto G (Gen 2.) vs. Sony Xperia E3: Specifications Comparison]
Among the rivals, Lava Iris Selfie 50 is cheapest device. It comes with price-tag of just ₹7,500, whereas Microsoft Lumia 535 Dual and Panasonic Eluga S cost - ₹9,999 and ₹10,990 - respectively.
Samsung Galaxy Grand Prime is most expensive smartphone among the log; it is priced around ₹15,000 range.
[Note: All smartphones can be bought for lesser price at online stores and upon little bargaining at local brick-and-mortar stores, can also get you a cool deal as well]
[Also Read: Alcatel OneTouch Flash: Selfie-Centric Phablet Launched in India]
Key Specifications of Microsoft Lumia 535, Samsung Galaxy Grand Prime, Lava Iris Selfie 50 and Panasonic Eluga S
Models
Microsoft Lumia 535
Samsung Galaxy Grand Prime
Lava Iris Selfie 50
Panasonic Eluga S
Display
5.0-inch qHD (960x540p) IPS LCD screen with Corning Gorilla Glass 3 shieldPixel density: 220 ppi (pixels per inch)
5.0-inch qHD (960x540p) TFT
screenPixel density: close to 220 ppi
5.0-inch FWVGA with 854x480p resolutions
5.0-inch HD IPS screen with 1280x720p resolutions
OS
Latest Windows Phone 8.1 OS with Lumia Denim update
Android 4.4.2 KitKat
Android 4.4.2 KitKat
Android 4.4.2 KitKat OS with Fit Home UI
Processor
1.2GHz Snapdragon 200 series quad-core CPU
1.2GHz Snapdragon 410 series quad-core CPU
1.2GHz quad-core processor
1.4GHz MediaTek Octa-core CPU
GPU
Adreno 302
Adreno 306
N/A
N/A
RAM
1GB
1GB
1GB
1GB
Storage capacity
8GB, expandable up 128GB
8GB, expandable up to 64GB
8GB, expandable up to 32GB
8GB, expandable up to 64GB
Camera
Main: 5.0-megapixel camera with ¼-inch sensor, f/2.4 aperture, 28 mm focal length, LED flash, auto-focusFront: 5.0-megapixel wide-angle camera with f/2.4 aperture
Main: 8.0-megapixel CMOS camera with LED flash, auto-focus full HD video recording abilityFront: 5.0-megapixel CMOS camera with wide-angle (85-degree) lens
Main: 8.0-megapixel camera with dual-LED flash, Auto Focus Camera with BSI-2 sensor & 1.4 μm Pixel SizeFront: 5.0-megapixel with flash and auto-focus
Main: 8.0-megapixel camera with auto-focus, LED flash, full HD video recordingFront: 5.0-megapixel with Blink Play feature (upon activation just a eye-blink can set a 3-second countdown to capture photo on the front side)
Battery
1905 mAh (BL-L4A)Talk time: up to 11 hours (2G) & close to 13 hours (3G)Standby time: up to 14 days
2600 mAh;Talk time: up to 17 hoursStandby time: N/A
2500mAh (Battery Removable);Talk time: up to 12 hours;Standby time: close to 240 hours
2100 mAh;Talk time: up to 2.5 hours (3G)Standby time: close to 90 hours
Network
2G & 3G
2G and 3G
2G & 3G
2G & 3G
Add-ons
Micro dual-SIM slots (optional), Wi-Fi (802.11 b/g/n), Bluetooth v4.0, micro_USB 2.0, Lumia Beam (peer-to-peer wireless file sharing feature)and other standard sensors
Smart dual-SIM (micro) slots, 3G, Wi-Fi (802.11 b/g/n 2.4GHz), Wi-Fi Direct, Bluetooth v4.0, GPS, 14-regional language support, matte finish on the rear-side
Dual-SIM slots (smart-on feature), Bluetooth v3.0, OTG support, Wi-Fi (802.11 b/g/n), GPRS/EDGE,
Dual-SIM slots, Bluetooth v4.0 (with A2DP), Wi-Fi (802.11 b/g/n), A-GPS, FM with RDS,
Dimensions
140.2 x 72.4 x 8.8 mm
144.8 x 72.1 x 8.6 mm
144.5 x 71.2 x 9.2mm
149.7 x 77.0 x 7.9 mm
Weight
146 g
156 g
N/A
155 g
Price
₹9,999/-
around ₹15,000/-
Around Rs 7,500
₹10,990 (MRP: ₹11,190)