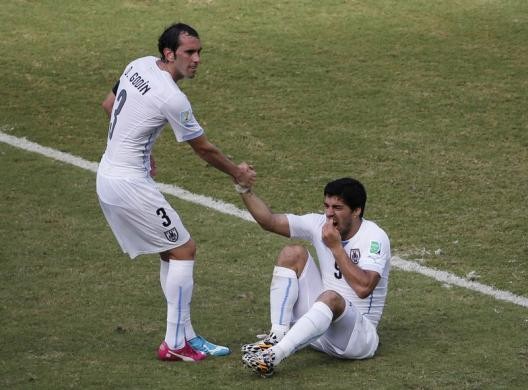 After returning from a knee surgery, football star Luis Suarez lapped up attention during his first appearance of the tournament scoring two goals in a crucial match against England. However, after impressing fans in his first game, the Uruguayan has once again come under the scanner for the wrong reasons.
Suarez, 27, appeared to have bitten Italian defender Giorgio Chiellini on the shoulder during a 'do-or-die' match on Tuesday. Italy, who was reduced to 10 men after Claudio Marchisio was given a red card, needed a draw or a win to qualify for the round of 16, but lost to Uruguay by a goal.
Meanwhile, Tuesday's incident was not the first time Suarez was found biting an opponent. He has resorted to such acts a couple of times in the past, resulting in him being banned from playing several matches. The Liverpool striker doesn't seem to have learnt from his mistakes and resorted to such antics once again on Tuesday.
Here is the timeline of Luis Suarez's biting incidents:
2010: Suarez first bit PSV Eindhoven midfielder Otman Bakkal while playing for Dutch club Ajax. He was handed a seven-match ban. Though he was not punished during the game as it went unnoticed by the referee, Bakkal later showed the red mark on his shoulder.
2013: While playing for Liverpool, Suarez bit Chelsea defender Branislav Ivanovic on the arm, after which he was banned from playing ten matches in the English Premier League.
2014: The Uruguayan footballer appeared to sink his teeth into Chiellini's shoulder on 24 June's World Cup group game in Brazil between Uruguay and Italy. While Chiellini was going for the ball in the penalty area, Suarez buried his teeth in the latter's shoulder.
The replays revealed that Chiellini had marks of Suarez' teeth, who also fell to the ground clutching his mouth. Though during the match no action was taken, FIFA has now decided to look into the matter.
"FIFA can confirm that disciplinary proceedings have been opened against the player Luis Suarez of Uruguay following an apparent breach of art. 48 and/or art. 57 of the FIFA Disciplinary Code during the 2014 FIFA World Cup Brazil™ match Italy-Uruguay played on 24 June 2014," a statement on FIFA's official website read.