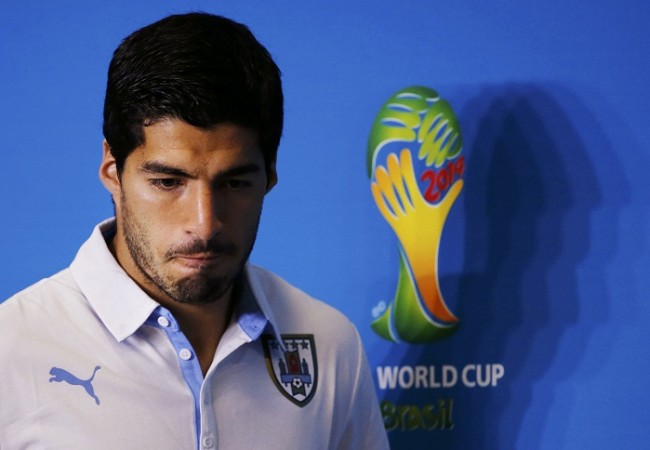 Uruguay striker Luis Suarez has publically apologised to Italy defender Giorgio Chiellini, following the "bite incident," which resulted in his nine-match international suspension as well as a four-month ban from all football-related activities by FIFA.
Suarez was charged for biting Chiellini during Uruguay and Italy's final Group D fixture on 24 June.
Though he pleaded his innocence earlier, claiming the whole incident was an accident, he finally issued an apology to the Italian defender, insisting he will never repeat it in the future.
"After several days of being at home with my family, I have had the opportunity to regain my calm and reflect on the reality of what occurred during the Italy-Uruguay match on 24 June," said Suarez on his official website (www.luissuarez.co.uk).
"Independent from the fallout and the contradicting declarations that have surfaced during these past days, all of which have been without the intention of interfering with the good performance of my national team, the truth is my colleague Giorgio Chiellini suffered the physical result of a bite in the collision he suffered with me."
"For this: I deeply regret what occurred. I apologise to Giorgio Chiellini and the entire football family. I vow to the public that there will never again be another incident like this involving me."
Meanwhile, Chiellini seems to be holding no grudges against Suarez, as he immediately accepted the Uruguayan striker's apology, saying that he hopes FIFA will reduce his suspension period.
"It's all forgotten," he Tweeted. "I hope FIFA will reduce your (Suarez's) suspension."
Even before Suarez had apologised, Chiellini said the Uruguayan's punishment was too harsh, insisting a ban would be "really alienating" for a player.
"Inside me there are no feelings of joy, revenge or anger against Suarez for an incident that happened on the field and that's done. There remain only the anger and the disappointment about the match. At the moment, my only thought is for Luis and his family, because they will face a very difficult period," Chiellini said on his offical website (www.giorgiochiellini.com)
"I have always considered the unequivocal disciplinary interventions by the competent bodies, but at the same time I believe the proposed formula is excessive. I sincerely hope that he will be allowed, at least, to stay close to his team-mates during the games, because such a ban is really alienating for a player."