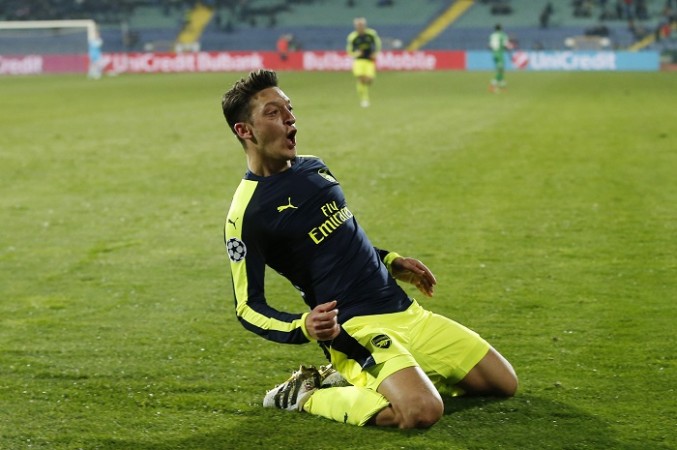 Arsenal are showing, time and again this season, that there is a backbone there. In matches that they would have normally capitulated in, in previous campaigns, the Gunners have found a way to not just eke out a draw, but complete the comeback by picking up victories.
Tuesday, in Bulgaria, was another such night, with Arsenal coming back from two goals down against Ludogorets to complete a 3-2 victory and seal a place in the round of 16 for a 17th successive season.
Jonathan Cafu and Claudiu Keseru took advantage of slack Arsenal defending to make it 2-0 to the home side with just 15 minutes on the clock, and the fact that there was still so much time remaining for an Arsenal comeback, worked in the Premier League team's favour.
Xhaka started it by finishing off an Ozil cross in the 20th minute, before Olivier Giroud, instrumental in Arsenal's 4-1 win over Sunderland at the weekend, used his head to good use again four minutes before halftime.
With the match level you would have expected Arsenal to come out all guns blazing in the second 45, but it took until the 87th minute for the away side to find the winner, even if the wait was more than worth it.
Running onto a ball over the top from substitute Mohamed Elneny, Ozil clipped the ball over the goalkeeper Milan Borjan, but instead of then slotting the ball into the net, the German had the audacity to dribble past two Ludogorets defenders, who had run in to provide cover, leaving them on the floor, before eventually slotting the ball where it was always going to go.
"We were caught cold and were 2-0 down and after that I felt we didn't panic, kept our composure and came slowly back," Arsene Wenger said. "It was good to be 2-2 at halftime. In the second half we dropped a little bit physically and we continued to dominate the game, but we were exposed to their counter-attacks.
"After, I would like to say three more things. First of all our keeper (David Ospina) made one or two saves in the second half, we managed to score a great goal just before the end and Ludogorets are a good team who maintained the intensity tonight that they couldn't maintain at the Emirates."
You can also watch the highlights of the match HERE and HERE