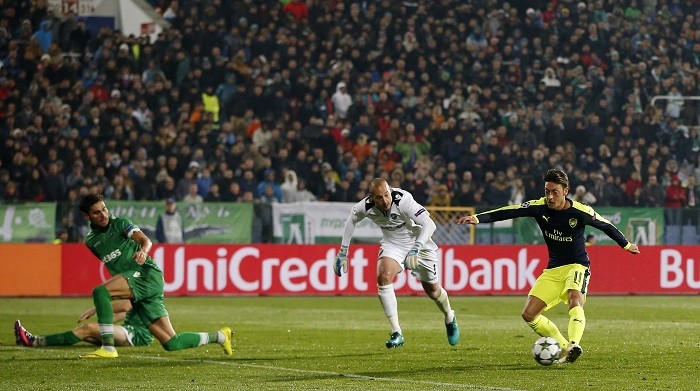 It is remarkable how little Arsenal get credit for their consistency – be that with their ability to time and again finish in the top four or to make it past the group stages of the Champions League. Unfortunately, the criticism they get over their inability to win the Premier League title or make it to the final four and more in Europe overshadow the credit they deserve to get for producing consistent results, every single season.
It is difficult this consistency thing, particularly in the ever-changing world of football – just ask Liverpool or Manchester United. Wenger, though, has made the art of consistency his own, with that fact highlighted by the fact that Arsenal guaranteed a place in the last 16 of the Champions League for the 17th consecutive season on Tuesday after a 3-2 win over Ludogorets.
"I believe that the most difficult thing in life is to be consistent at the top level," Wenger said of Arsenal's achievement of making it to yet another Champions League knockout stage. "And so it shows that we have been quite consistent there and that we could do it again this season and hopefully we can go further.
"Now we have a game where we can finish top of the group, at home, and let's maintain the quality of our results until the game against Paris Saint-Germain and then we are in a good position to finish top of the group."
It is that game against PSG, at home, on the next matchday which will most likely decide which club finishes top of Group A. Arsenal have been hurt by coming in second in their group quite a few times over the years, so Wenger will be keen to pick up a win against PSG at the Emirates.
For now, though, the Arsenal manager can savour another win, with Mesut Ozil's delicious finish completing a wonderful comeback. Down two goals, Arsenal answered back through Granit Xhaka, Olivier Giroud and Ozil, with the final goal worthy of a victory over any side.
Wenger admitted he was worried Ozil had delayed his finish too much, when he decided to dribble the ball past two Ludogorets defenders instead of slotting the ball into the net after lifting it over the goalkeeper, but, in the end, the German showed he made the right choice by finishing off the opportunity with ease.
"You know, I would say the great players make the right decisions in the game situations they face," Wenger added. "They always make the optimal solution.
"To me it didn't look for a while like the optimal solution, but when the ball was in the net I thought it was. You wanted him to take maybe his chance earlier but at the end he had enough skill to prove that he was right."
As good as Ozil's goal was and as exciting as the comeback was, Arsenal fans would certainly like their team to give them a few more worry-free games. However, Wenger insisted Arsenal were made to work for their win not because of their penchant to make things difficult for themselves, but rather due to the fact that Ludogorets are a fine team, capable of causing problems to a lot of sides in Europe.
"We did not come here to produce less effort," Wenger said. "Ludogorets even pushed us to produce more effort because we had to give a lot to win the game. Ludogorets is a strong team for me.
"Sometimes in life you don't know how good you are, and Ludogorets at the moment don't know how good they are. Maybe they'll come back next season and learn, they have learned a lot, and they will come back with the same team and make very good results."