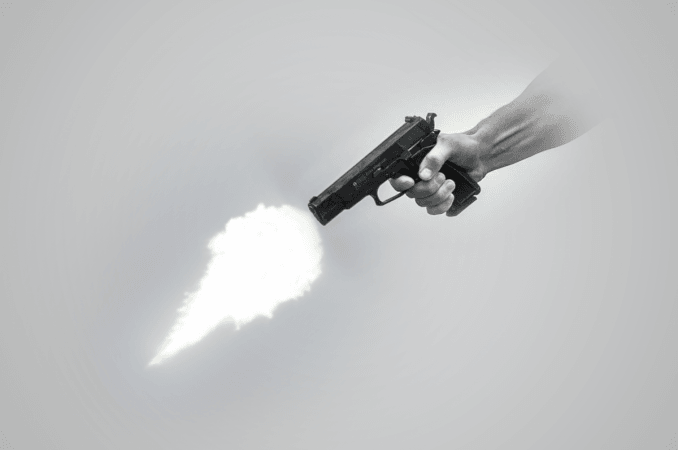 A suspected terrorist opened fire at security forces in Thakurganj area of Lucknow on Tuesday. An operation to capture the terrorist is currently underway in the area's Haji Colony. Another suspect has been arrested from Kanpur.
According to reports, Saifullah, the suspected terrorist, fired shots at security forces following which a gun-battle began between both the sides. Saifullah was reportedly involved in the explosion that took place inside a general coach in the Bhopal-Ujjain passenger train earlier on Tuesday. He is allegedly linked with the Islamic State group.
The Uttar Pradesh Anti-Terror Squad (ATS) is trying to capture the terrorist. UP Police chief Javed Ahmed confirmed that a shootout did take place between the alleged terrorist and security forces. The area has been cordoned off and several ATS commandos have surrounded the building. Tear gas shells have also been thrown inside the room in which the alleged terrorist has locked himself. An ambulance has also been called in.
ADG (Law and Order) Daljit Chaudhary, in a press conference on Tuesday, said that they had received inputs (from the central agencies) about the presence of suspects in Kanpur and Lucknow after which senior police officials raided several locations. The alleged terrorist opened fire at security forces after an ATS team knocked at the door of his residence.
"One suspect has been arrested from Kanpur, the second one is inside a building in Thakurganj. He has not come out yet. We will have to arrest and interrogate him first," Chaudhary said while refusing to provide details on whether the suspects were linked to the train accidents or belonged to any terrorist organisation.
"The moment we knocked the door, the suspect locked the room and then we heard a sound of cocking of pistol. The suspect has weapons, ammunition with him but he is alone there, no hostage and nobody else present there... In order to arrest him alive, we used chilli bombs but he has not come out yet. He is firing intermittently but we have stopped firing," ATS Inspector-General Sanjeev Shami told reporters.
A high-level meeting between senior state government and police officials is also underway. The Centre is also monitoring the situation closely. Home Secretary Rajiv Mehrishi has already briefed Home Minister Rajnath Singh about the developments in Lucknow, the Indian Express reported.
The shootout comes at a time when the state is set to go into its seventh phase of polling on Wednesday.
Suspected terrorist holed up by UP ATS in Thakurganj area of Lucknow. Operation in progress. (Visuals deferred by unspecified time) pic.twitter.com/fHDHM7b2tQ

— ANI UP (@ANINewsUP) March 7, 2017
Suspected terrorist holed up by UP ATS in Thakurganj area of Lucknow. Operation in progress. (Visuals deferred by unspecified time) pic.twitter.com/1SlD0Kp7az — ANI UP (@ANINewsUP) March 7, 2017