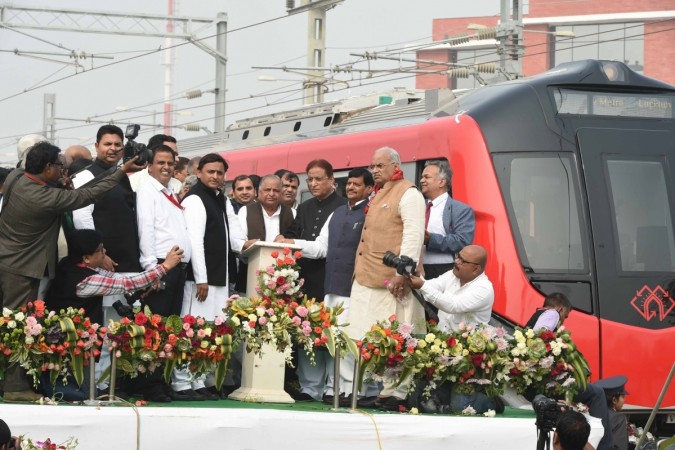 In the run up to the crucial Uttar Pradesh (UP) Assembly elections in 2017, both the BJP and the ruling SP are apparently vying with each other to woo voters. On Thursday, the Modi government released Rs 250 crore for the Lucknow Metro project, 28 days after the state chief minister Akhilesh Yadav flagged off the trial run.
Also read: PM Narendra Modi to speak at at Lucknow rally on Jan 2
A fews days ago, Yadav had inaugurated 910 projects on a single day entailing a cost of about Rs 51,000 crore.
"The Ministry of Urban Development today released Rs 250 crore for the Lucknow Metro Rail project which is a joint venture project of central and Uttar Pradesh Governments. The Ministry had earlier this year released Rs 300 crore taking the total assistance provided to the Lucknow Metro to Rs.550 crore," a statement by the union government said on Thursday.
The Lucknow Metro project, a joint venture between the Centre and the Uttar Pradesh government, entails a total investment of Rs 6,928 crore, with the state government's share at Rs 2,128 crore. The Centre has tied-up with the European Investment Bank for securing a Rs 3,500 crore loan for the project.
As widely reported, Prime Minister Narendra Modi is scheduled to address a BJP rally in Lucknow on January 2, 2017 when he is expected to announce sops for voters in Uttar Pradesh, besides addressing the larger debate on demonetisation.
On Wednesday, the Samajwadi Party (SP) released the first list of 325 candidates for the Assembly elections, sparking controversy since leaders apparently belonging to Akhilesh Yadav faction within the party do not figure in the list.
The Uttar Pradesh Assembly has 403 seats and the SP has 224 seats in the outgoing Assembly.
While announcing the list, SP chief and father of Akhilesh Yadav — Mulayam Singh Yadav — also ruled out any tie-up with the Congress.
The BJP is hopeful of a comeback in the state on the back of its demonetisation decision and anti-incumbency for the SP.