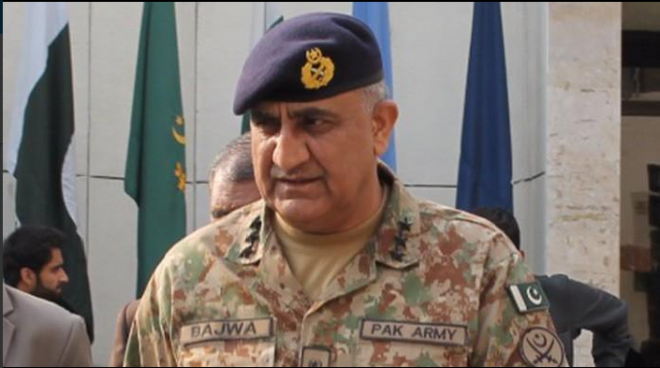 Lieutenant General Qamar Javed Bajwa has been appointed as the 16th chief of Pakistan Army by Prime Minister Nawaz Sharif, local media reported on Saturday, November 26. Bajwa will replace General Raheel Sharif, who will retire on November 29.
According to the Dawn, Lt Gen Zubair Hayat has been appointed as the Chairman Joint Chief of Staff Committee (CJCSC). Bajwa is an infantry officer, who belongs to the Baloch Regiment.
Both Bajwa and Hayat will be promoted to the rank of four-star generals. They will take up their new posts on November 29.
Others who were considered for the Army chief post were Bahawalpur Corps Commander Lt Gen Javed Iqbal Ramday and Multan Corps Commander Lt Gen Ishfaq Nadeem Ahmed. All of them are from Pakistan Military Academy's 62nd long course.
The official process for nomination starts with the General Headquarters sending a list of the senior-most generals to the Prime Minister through the defence ministry. However, they do not make any formal recommendations.
The Prime Minister then holds informal consultations with the outgoing Army chief before announcing his decision, the daily reported.
Bajwa is currently serving at the General Headquarters of the Pakistan Army as Inspector General of Training and Evaluation — the position General Sharif held before becoming the Army chief in November 2013. Bajwa has commanded the 10 Corps — the Army's largest contingent responsible for the area along the Line of Control (LoC).
Bajwa has extensive experience of dealing with affairs related to Kashmir and the northern areas of Pakistan. He has also served as Brigade Commander for a UN mission in Congo. He was there with former Indian Army chief General Bikram Singh, who had gone there as a Division Commander.
Bajwa reportedly believes that extremism is a bigger danger to Pakistan than India. He has been described by his colleagues as a man who does not seek attention and is well-connected with his troops.
Related