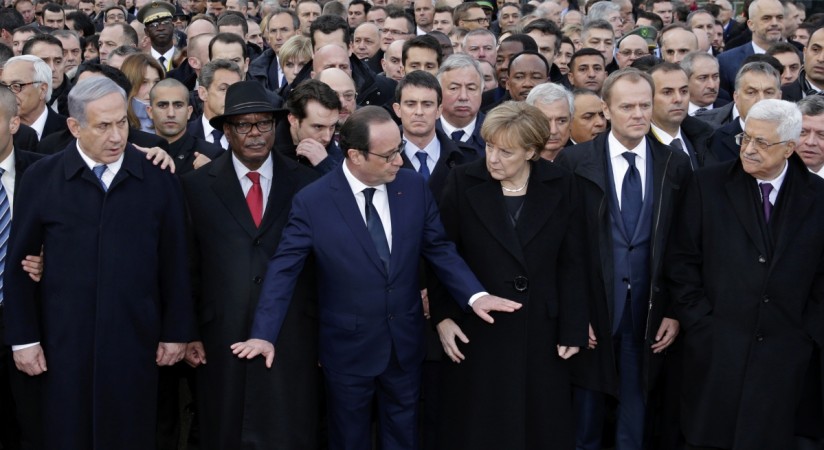 Following the fatal shootings in the office of French satire weekly "Charlie Hebdo" on 7 January 2015, a huge unity march was organised in Paris, wherein world leaders joined together to symbolically announce they would not cover before terrorism. A London School of Economics student Daniel Wickham has taken to Twitter to expose how tolerant the very same leaders have been in the past, when it came to "freedom of expression".
In the massive rally held on 11 January around 2 million people, including François Hollande, the president of France and 40 other world leaders participated. "Je suis Charlie" became the motto that united the people in the aftermath of the terrorist attacks.
Translating to "I am Charlie", the phrase that reverberated from Place de la République to Place de la Nation in the heart of Paris on Monday, sent a message to the extremists that "freedom of expression" is a basic human right and that it cannot be curbed.
LSE student Wickham, however, was not impressed with the giant show of solidarity and went snooping into some old stories of the leaders and how they have dealt with criticism and freedom of expression in their own countries.
"So here are some of the staunch defenders of the free press attending the solidarity rally in Paris today..." tweeted Wickham on 11 January.
"1) King Abdullah of Jordan, which last year sentenced a Palestinian journalist to 15 years in prison with hard labour."
On 16 January 2015, The Jerusalem Post reported that Mudar Zahran, a Jordan Palestinian who has written op-eds for their publication and has been calling for a secular state and full civil rights in Jordan, was sentenced to jail with hard labour.
"2) Prime Minister of Davutoglu of Turkey, which imprisons more journalists than any other country in the world"
According to an year-end report by The Guardian in 2013, Turkey is the world's leading jailer of journalists for the second year runnig.
"3) Prime Minister Netanyahu of Israel, whose forced killed 7 journalists in Gaza last yr (second highest after Syria)" and "14) The Foreign Minister of Bahrain, 2nd biggest jailer of journos in the world per capita (they also torture them)"
Even Egyptian writer Mohamed El Dahshan tweeted his objection about infamous leader Benjamin Netanyahu and the foreign minister of Bahrain Sheikh Khaled bin Ahmed at the rally. He said, "The presence of Israeli & Bahraini leaders at an "anti-terrorism" demo makes it largely meaningless. State terrorism must be rejected! #Paris"
"4) Foreign Minister Shoukry of Egypt, which as well as AJ staff has detained journalist Shawkan for around 500 days"
In December 2014, photojournalist Mahmoud Abou Zied, also known as Shawkan, related to Daily News Egypt, his plight. In a letter he revealed that he was "kidnapped and imprisoned for almost 16 months now."
5) "Foreign Minister Lavrov of Russia, which last year jailed a journalist for 'insulting a government servant'"
In September 2014, Reporters Without Borders had reported that Siberian journalist and blogger Dmitry Shipilov was arrested near Moscow just hours after a newspaper published an interview by him with a champion of Siberian autonomy. They had speculated that although official records suggest that Shipilov was arrested to serve a jail sentence in a case dating back to 2012his detention was politically motivated and was prompted by the interview.
Wickham further tweeted, "6) Foreign Minister Lamamra of Algeria, which has detained journalist Abdessami Abdelhai for 15 months without charge", "7) The Foreign Minister of the UAE, which in 2013 held a journo incommunicado for a month on suspicion of MB links", "8) Prime Minister Jomaa of Tunisia, which recently jailed blogger Yassine Ayan for 3 years for 'defaming the army'", "9) The PMs of Georgia and Bulgaria, both of whom have a record of attacking & beating journos" and so on.
10) The Attorney General of the US, where police in Ferguson have recently detained and assaulted WashPost reporters http://t.co/fYtWGEl3pL

— Daniel Wickham (@DanielWickham93) January 11, 2015
Wickham further tweeted reasons as to why Prime Minister Samaras of Greece, Secretary-General of NATO, who are yet to be held to account for deliberately bombing and killing 16 Serbian journalists in 1999, President Keita of Mali, Sheikh Mohamed Ben Hamad Ben Khalifa Al Thani of Qatar, Palestinian president Mahmoud Abbas, Prime Minister Miroslav Cerar of Slovenia, Prime Minister Enda Kenny of Ireland and Prime Minister Kopacz of Poland did not deserve to take part in the unity march. Wickham also made a jab at United Kingdom, where, according the Reporters Without Borders, government officials threatened "The Guardian" with judicial proceedings if it reported on the UK and US governments' surveillance practices. In June 2013, a senior official claiming to represent the views of the prime minister had allegedly even demanded that the newspaper destroy material it was using for its revelations.
21) Saudi ambassador to France. The Saudis publicly flogged blogger @raif_badawi for "insulting Islam" on Friday http://t.co/ZTlPCGa6u5 — Daniel Wickham (@DanielWickham93) January 11, 2015