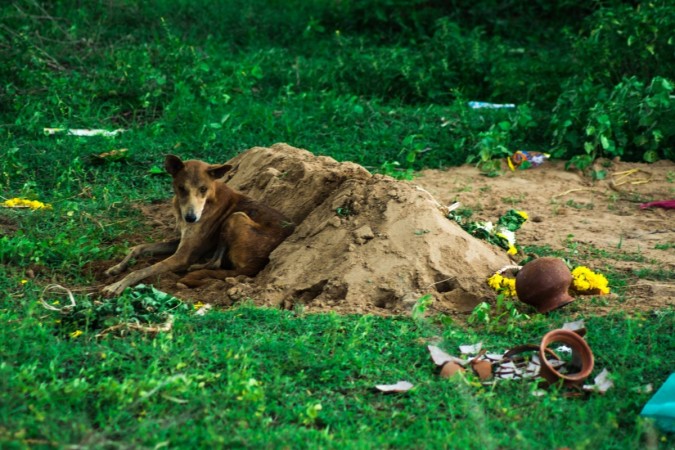 In an incident that proves the unwavering loyalty of dogs, a mongrel refused to leave the grave of its teenage owner, and waited there starving for weeks.
Tommy belonged to 18-year old construction labourer Bhaskar in Chennai. Bhaskar was killed in a road accident on 2 August. And the dog has been sitting near his grave in the open burial ground near Avadi Bridge since then.
Local residents claim Tommy had been at the grave, braving the sun and frequent rains.
Blue Cross of India, a non-profit society that works for the welfare of animals, first narrated the story on its Facebook page.
"When we attempted to rescue the dog, it stubbornly resisted and refused to budge," Blue Cross of India general manager Dawn Williams told The Times of India.
"Sometime during the 1st week of August, while on a rescue mission in Avadi along with our volunteer Mukund from Caterpillar, they were going through a police check post where traffic is necessarily slow. As they passed an open graveyard, they noticed a dog sitting on a fresh grave. Considering that neither the presence of a graveyard nor the fact that dogs sit around at them is momentous, they passed through," Blue Cross of India stated.
The NGO spotted the dog near the grave again on 13 August. But when the workers tried to give the animal biscuits and milk, it would just whimper and put its head down, refusing to budge.
The NGO then tracked down Bhaskar's mother. And when Tommy saw Bhaskar's mother, he immediately rushed to her.
"Tommy rested his head on her feet and cried some more, as the mother bent down and, lifting his head up, kissed him, before burying her face against his neck and crying," the NGO workers stated.
Bhaskar's mother had thought that Tommy had run away. But when she found him at the burial ground, she took him along and even Tommy obediently went with her, the volunteers narrated.
There have been several such cases in the past as well. A loyal bull terrier was found protecting the body of his master in the searing Oklahoma summer heat back in July.
Animal Rescue workers had to struggle a lot to get the dog away from the grave, while the dog fiercely fought to stay, Daily Mail had reported.
Similarly, the story of Hachiko, a golden brown Akita dog, in Japan is fondly remembered.
Hachiko waited for nearly 10 years for the miraculous return of his departed owner Professor Hidesaburo Ueno at Shibuya Station.