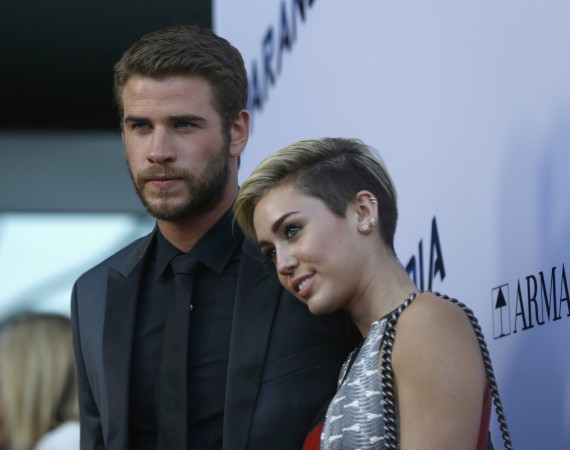 It seems like Miley Cyrus and Liam Hemsworth are no longer trying to hide their relationship. The two were spotted together at "Hunstman: Winter's War" premiere in Los Angeles. The rumoured couple arrived together, hand-in-hand, according to People Magazine.
Their appearence at the "Hunstman: Winter's War" premiere marks the first time Miley and her rumoured beau made a public outing together. Rumours about their relationship have been rife since late 2015. However, neither Miley nor Liam have made a statement on their relationship.
Miley joined the Hemsworth family to support her alleged fiancé's brother Chris. She was seen with Chris' wife Elsa Pataky, and his other brother Luke Hemsworth and his wife Samantha.
A source confirmed to People Magazine that the ring on Miley's finger is indeed her engagement ring. She added that the "Wrecking Ball" singer has been travelling between L.A and New York so that she could spend some time with "The Hunger Games" star.
The source added, "She was happy to spend some time with Liam – things are great between them. There are no set wedding plans, and they are enjoying their engagement."
Earlier, there were reports that the former Disney star rekindled romance with ex-fiancé December 2015. The couple, who got engaged in 2012 broke up shorty after, seem to be in love again.
Miley, 23, even met Liam's family for lunch Friday, April 8, in Los Angeles. According to Daily Mail, the couple dined at Gracias Madre in West Hollywood.