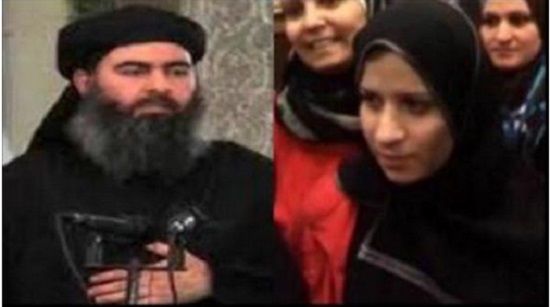 Islamic State in Iraq and Syria (ISIS) leader Abu Bakr al-Baghdadi romanced his wife Saja Hamid al-Dulaimi before marriage on the Internet, according to reports.
Al-Dulaimi got in touch with Baghdadi even as she was "looking for a jihadi to marry," after the death of her husband.
This comes amid speculation whether the woman detained in Lebanon last week is Baghdadi's wife al-Dulaimi. Her photo had surfaced online months ago.
The two became closer online, sources in the Middle Eastern security establishment told NBC News.
Al-Dulaimi's previous husband had been killed in a skirmish with the Iraqi Army, following which she sought a new husband online,. The officials did not say which online platform the two met on.
However, their current status remains a mystery, with some reports suggesting they are lovers, while some stating they were married but divorced currently.
Al-Dulaimi came into prominence in March this year when she was reportedly part of the prisoner swap between the Syrian government and the Al-Nusra Front, an al-Qaeda affiliate.
At the time, she was widely referred to as 'al-Badghadi's correct wife', the report says. The Al-Nusra members had been instructed "'not to touch her."