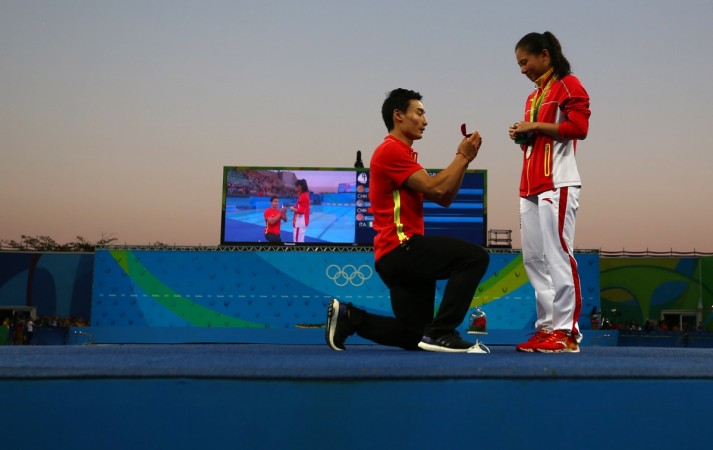 "I love you like crazy and I want to be bullied by you for the rest of my life" - these were apparently the words used by Chinese diver Qin Kai on Sunday as he got down on his knees to pop the million-dollar question to his partner, He Zi, and bring out the diamond ring. The sweetest moment ever to witness in an engagement ceremony, but wait, this was different.
The moment took place when the entire world was tuning in to watch the Rio 2016 Olympics. He Zi had just won the silver medal in the women's 3m springboard diving competition at the Maria Lenk Aquatics Centre and according to her, nowhere in her wildest imaginations, did she expect her boyfriend of six years to pop the question right in the middle of it all.
Qin Kai, 30, won the bronze medal earlier in the men's 3m springboard diving event, and was apparently waiting for the moment. He was confident that his girlfriend would have a sure shot podium finish.
"I don't know why he did it today. I wasn't expecting to get married so soon," He Zi, proudly displaying her diamond ring and a red rose encased in glass, told Chinese news agency Xinhua.
"I met him at noon and overheard him talking to himself. I asked him what it was, but he just said that he was singing," the 25-year-old diver added, indicating that Qin Kai was possibly rehearsing the proposal.
"I couldn't be happier. He said a lot of words and made a lot of promises. But I remember he said he would like to be bullied by me for the rest of his life," mentioned He Zi.
For Qin Kai, the moment remained one of the bravest and the gutsiest ever in his life. "I said to He Zi: I am asking you to marry me with the whole world watching. I hope we will get the blessing of the world. I love you. I want everyone to know that I love like crazy," said the male diver.
Oh, and Qin Kai had been put through a lengthy wait as well by He Zi, before she finally said "yes" and allowed the diamond ring to be slipped into her finger.