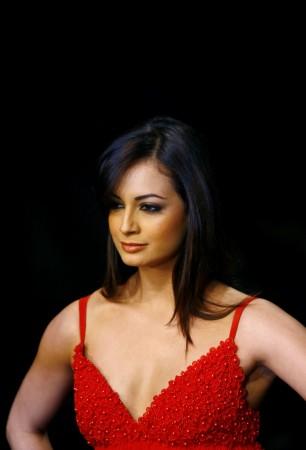 The beautiful Bollywood actress, Dia Mirza, reveals her personal secrets, crushes and break up.
What is love?
In a recent interview about her upcoming movie "Love, BreakUps Zindagi," she talks about the the most exciting word: "Love."
According to her, "love is life." It is this universal emotion that she thinks makes everyone feel alive. It's a feeling that gives you great strength and motivation and makes you feel like you "belong", she insists.
About who is Mr. Right for her, she promptly sets out some parameters saying that "there are many qualities that a Mr. Right should posses."
The qualities that she attributes to the love of her life are myriad and he is her ideal Mr. Right.
Revealing that she's in love with Sahil Sangha, the producer and director of her upcoming film, "Love, BreakUps Zindagi," Mirza says, he makes "everyone like him. He is a very likable person; you can senses sincerity and honesty in the first interaction. He is very straight up, normal, grounded, rooted person."
"When the crew loves him and respects him when my collogues love him and admire him and his family loves him and admire him..............it makes me to admire him so much.....," she adds.
"When you marry a man you just don't marry a man, you marry his family, he marries yours...and my mom loves him. Could you imagine what might be the next word, probably 'I Love Him?'"
Who was her first crush?
Love is not a new to Dia Mirza who has tasted the pangs of one-side love and shattered her heart during the school life. Frankly speaking, she knew what love is when she was a class eight student.
Her vision of love was novelistic in nature, "tall, dark, handsome man riding on horse and sweeping me away and taking me away from this life."
Her first crush was on an athletic and handsome boy who she never expressed and exposed. Who the unlucky athletic, handsome, person, who never came to know this angelic bea....uty had a crush on him for long time.
Blood letters:
Her secrecy never ends to explode. She had written with blood and she got letters written with blood even after becoming an actress.
Moreover, she received love letters from older and retired people admiring her personality, honest and craze. She really "cherishes" those letters, for their efforts to write her and for saying wonderful words about her.
The beauty of breakup is that she was heartbroken and it opens the window for an opportunity to her stardom. She once thought "her world had come to an end" and that was the sole reason for her to leave Hyderabad and come to Mumbai in 2000 to participate in the Miss Femina contest that drove her to stardom now.