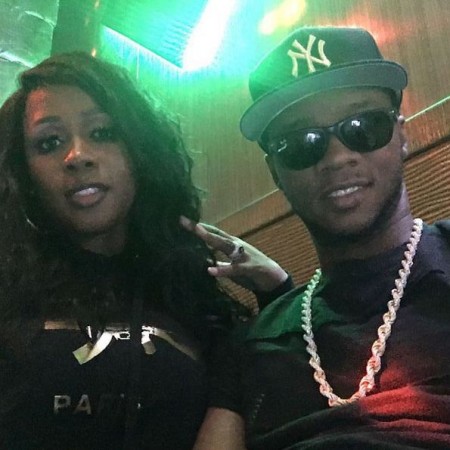 The newly-weds, Remy Ma and Papoose, might welcome a new member to the family in Love and Hip Hop New York season 7. Episode 1 is titled All The Way Up and it will be aired on VH1 this Monday, November 21, at 8pm EST.
A short description about the new season states that the couple will be trying for a child as they continue to navigate domestic life. In the official trailer, the rapper is seen gifting a pregnancy kit to his wife during a dinner date. But she does not seem to be very excited about it.
The promo also hints at troubled moments for Kimbella Vanderhee as she is seen trying to hold back her tears during a conversation with Juelz Santana. In the clip, she is seen telling him, "You know how much we have been through together and I never want to be there again."
Even Yandy Smith-Harris gets furious with Kim for leaving her alone during tough times and says, "You know more than anybody what I was going through. You could have picked up the phone and came. You were not there for me?" Although Kim tries to explain her situation, she refuses to hear the excuses.
The followers of Love and Hip Hop New York will also get a glimpse of the feud between Yandy, Erika DeShazo and Samantha Wallace through the sneak peek video. However, Mendeecees Harris does not seem to be affected by the verbal fights of his baby mothers. He posted a photo of himself on Instagram with the caption: "My face when I heard about that trailer."
Meanwhile, Cam'ron expressed his anger on VH1 for featuring him in the trailers of season 7 without proper consent. He uploaded a video on his Instagram page and stated that he is not a part of the Love and Hip Hop cast and that the network has no right to use the visuals without any paperwork.
"I am not a cast member on Love & Hip Hop. I did a scene for Juelz cause he's on the show. I did a scene for JuJu cause she's on the show. I should not be in anybody's commercials, especially when the paperwork isn't done. Obviously these people haven't done business with me before so they don't know how I get down, but tomorrow, we'll take care of it," he said.
Watch the first seven minutes of Love and Hip Hop New York season 7 premiere below: