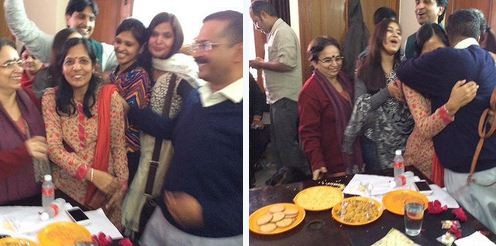 Not that there's a particular need for more accolades to be pouring in for Aam Aadmi Party Chief Arvind Kejriwal. He and his AAP colleagues have not exactly been short of it since that historical day - 10 February, 2015. The gesture however was a magnanimous one when he introduced his wife Sunita to the masses while addressing the AAP supporters after his party's emphatic victory in the Delhi assembly elections.
"I would not have been able to achieve anything without her. I can do nothing alone," he had said on that fateful day. He also tweeted, "Thank u Sunita for always being there," The Economic Times had reported.
It in a way is quite fitting that Kejriwal will be taking oath as the Delhi CM the second time around on Valentine's Day, a day which marks the vindication of the people's love for him. Not to mention the backing of his near and dear ones.
Arvind Kejriwal and Sunita were batch mates during their training days at the Indian Revenue Service (IRS).
The AAP chief had earlier told his supporters how he had "simply knocked at her door one day in the training academy to propose to her and she said yes".
"I have dragged her here today... I told her the government will not take any action. She was never seen. But she was always there," Kejriwal had told the cheering crowd from the office balcony.
Serving as a government officer, Sunita proved to be the steady one, balancing her work and domestic responsibilities, sources close to the couple said.
Another AAP member also did not hold back in singing praises of the duo. "They hardly disagree on anything... Apart from Arvind's love for cold drinks and her advice to him to avoid the same given his persistent cough problems. She ensured that he had home-cooked food during the campaign as he's a diabetic," he said, adding, "He greatly values Sunita's views on politics as an independent outsider to the system."
Arvind Kejriwal's parents Govindram and Geeta Kejriwal had said last year that both the families readily accepted to the two as a couple.
"They met during the IRS training in 1993 at the academy in Mussoorie... They got engaged in August 1994 and married in November the same year before joining their first assignments," Arvind's father Govindram Kejriwal had said, adding, "He (Arvind Kejriwal) is honest. All he has achieved is due to his hard work and dedication."