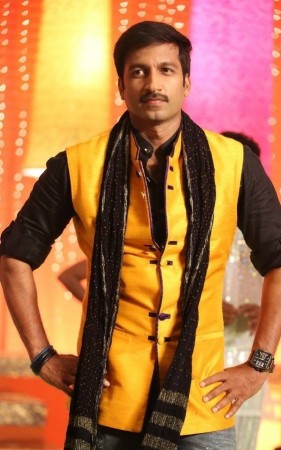 Gopichand's "Loukyam" has fetched decent reviews from critics.
Directed by Sriwaas, "Loukyam" is a typical commercial entertainer with Gopichand and Rakul Preet Singh in lead roles. The film also has Brahmanandam, Sampath Raj, Pradeep Rawat, Kovai Sarala, Posani Krishna Murali, Raghu Babu and Chandra Mohan in supporting roles. Kona Venkat and Gopimohan have written the screenplay for the family entertainer, while music is provided by Anoop Rubens.
Plot: Venky (Gopichand) helps don Babji's (Sampath Raj) sister to elope and get married to his friend. Babji is now on the lookout for Venky and in a bid to escape his wrath, Venky goes away to Hyderabad. He falls in love with Chandrakala (Rakul Preet), but later finds out she is also Babji's sister. What happens next forms the crux of the story.
Critics have stated that "Loukyam" has nothing new to offer and is just a regular commercial entertainer, which has been tried and tested many times. However, the film offers good entertainment with hilarious moments.
Gopichand has dropped his action hero image and has underplayed his character in "Loukyam." His comic timing has won accolades from critics. Rakul Preet looks glamourous and performs well in her role. Comedy by Brahmanandam and Prithvi are the plus points of the film.
Check below the review roundup of "Loukyam"
"Loukyam is a decent entertainer with comedy working in major parts. Gopichand's acting, hilarious comedy by Pruthvi and Brahmanandam in the second half are basic plus," according to 123telugu.
"On the flip side, even this film also suffers from the same tried and tested formula of the routine family entertainers," the website stated.
"The film reminds us of many other films too duly following the time-tested format. But the entertainment part has worked out fine here thus saving the film to a large extent. It is full on fun film right from start to end," according to OM of Andhraboxoffice.
"Loukyam is an entertaining film that can be happily watched once. However audience that expects explosive action scenes with Gopichand in the lead will be disappointed. True to its title, the film's hero is a diplomatic person. He solves most of his problems by using his intelligence," according to Gulte.
"Transformation of Gopichand and Director Srivas from serious 'Lakshyam' to hilarious 'Loukyam' is appreciable. A few hiccups in the narration are quite visible but they have has been successfully overcomed by some hilarious moments," according to APToday.
Verdict: Decent Entertainer