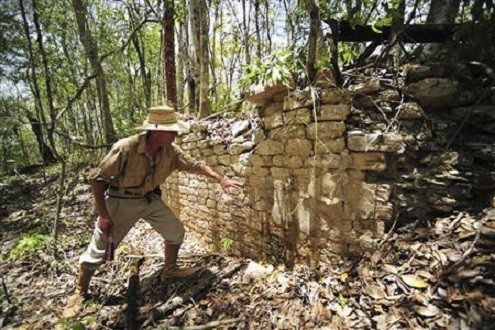 A team of archaeologists has discovered a lost city of the ancient Maya civilization in a remote jungle in southeastern Mexico. [To watch video, click here]
The archaeologist team led by Ivan Sprajc, from Mexico's National Institute of Anthropology and History (INAH), found the ruins of the city covered in thick vegetation in the southeast of Campeche province, on Mexico's Yucatan peninsula.
The Maya city stretches over roughly 54 acres (22 hectares) and dates between A.D. 600 and 900 during the late Classic Maya period, when the civilization collapsed. Researchers hope that the discovery could give some clues as to how the Maya civilization collapsed thousands of years ago.
Archaeologists named the city Chactun, which means "Red Rock" or "Large Rock." Chactun is one of the largest Maya cities to have been discovered, but was said to be slightly less populated when compared with the large ancient Maya city of Tikal in Guatemala. As many as 30,000 to 40,000 people might have lived in Chactun, reported Reuters.
The city was first spotted through aerial images that were snapped by the National Commission for the Knowledge and Use of Biodiversity 15 years ago. Archaeologists took three weeks to clear a 16-kilometre (10-mile) path into the jungle to reach the site. They spent about six weeks documenting the site, the Reuters report said.
As many as 15 pyramids (one of them 75 feet tall), ball courts, plazas, altars and sculpted stone shafts called stelae were found at the Maya site.
The site has been unknown for academicians, but loggers and gum extractors were said to have visited the place as recently as 20 to 30 years ago, according to Sprajc.
"With aerial photographs examined stereoscopically, we found many features that were obviously architectural remains," Sprajc explained in a statement from INAH. "From there we took the coordinates and the next step was to locate the ancient alleys used by tappers and loggers to reach the area."
Sprajc and his team found multiple ball game courts in Chactun, which was abandoned 1,000 years ago probably in the wake of demographic pressure, wars and climate change. According to INAH, the archaeologists hope the new findings would shed light on the relations between different regions of the Maya civilization.