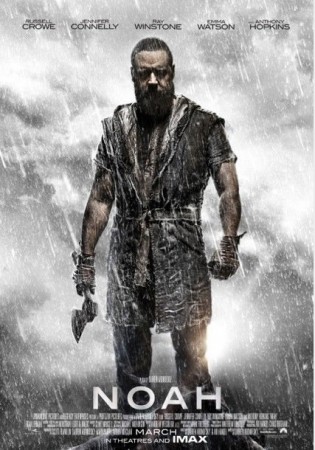 Is this a new way to confirm that what was shown in "Noah" has angered the God?
The controversial movie, which has been banned in several areas of the Middle East with complaints that it contradicts the teachings of Islam or Christianity, might be getting a blockbuster treatment, but it wasn't without an angry reaction from the God -- many are saying.
While the 5.1 magnitude earthquake in LA has been seen as a viral marketing for the film "Noah", many others have started to take it as a divine message from God that the movie was showcasing a false idea that has clearly not made the Gods happy.
Curiously enough, one twitter user's revelation that the earthquake hit during a speech in the movie that creepily tends to confirm some divine intervention of sorts, would make you believe this theory. The Earthquake rattled the threaters exactly at the time when the movie was saying: "Is man worthy of survival?" sending across a wave of panic as the theaters shook violently.
So experiencing an earthquake during the whole "Is man worthy of survival?" speech in Noah was preeettty creepy, I must say. CC @ThinkHero

— Jennings Roth Cornet (@RothCornet) March 29, 2014
A twitter user with the name Russ Fischer says that the California earthquake hit just after the flood did in "Noah". Another person with the name Dane Cook says that the 'Lord has spoken' as a lot of people watching "Noah" were forced to evacuate the theaters.
Now I read about the earthquake. It hit just after the flood did in NOAH. Seriously wondered if the Chinese had snuck in 4D. All clear now. — Russ Fischer (@russfischer) March 29, 2014
Lotta theaters showing Noah evacuated in California after the earthquake. The Lord has spoken.

— Dane Cook (@DaneCook) March 29, 2014
Another creepy tweet by Philip DeFraco seen below was retweeted more than 400 times and favourited over 1000 times.
Nothing quite like the end of the world scene in Noah starting and 20 seconds later your movie theater starts shaking from an earthquake. — Philip DeFranco (@PhillyD) March 29, 2014
Here are some more scary tweets:
Um ok so the real life earthquake right in the middle of the animal stampede in Noah sort of freaked me out...

— ilaria urbinati (@ilariaurbinati) March 29, 2014
Earthquake during flood scene in Noah. Nice touch @DarrenAronofsky — alex walker (@alliseeismusic) March 29, 2014
what if the movie Noah came out to warn us that an earthquake is the next apocalyptical natural disaster. #highthoughts

— 7th Kazekage (@Mr_OliverHart) March 29, 2014
Every1 talking about faith, March Madness, the new Angels' player, date nite, or the movie Noah...plz hold. SoCal has had an earthquake. — jan_lynn (@jan_lynn) March 29, 2014
man, that earthquake must have been freaky deeky for anyone in a screening of Noah

— Dylan C. Lathrop (@DylanLathrop) March 29, 2014
That earthquake was God's punishment for "Noah." — Chip Pope (@ChipPope) March 29, 2014
Watching Noah and whole theatre started shaking -- another LA earthquake.. Guess God's not happy with them messing with His story.

— Zach James (@ZachJames) March 29, 2014
So I was in the movie theatre watching NOAH and there was a big earthquake right before he killed the baby! I thought Jesus was coming back — Reesie (@AdoreReesie) March 29, 2014
Thank goodness for the earthquake. It saved me from watching the end of Noah #worstmovieEver #NoahMovie #laquake

— Mandy Blair (@mqndy) March 29, 2014
Flock despite Controversy
Darren Aronofsky's controversial biblical epic "Noah" is doing just opposite to what was expected.
Dispelling weeks of speculation that the filmmaker's darker take on the story of Noah and his Ark would be a turnoff to most religious people, the movie is in fact, winning over both faith-based moviegoers and mainstream audiences, The Hollywood Reporter notes.
The movie features renowned faces such as Russell Crown, Emma Watson, Jennifer Connelly and Ray Winstone among others.
"In the beginning there was...nothing," the first on-screen words says before showing everything: spectacular cosmos, Adam and Eve, a fall of angels, swarming industrial towns spreading so much of sin and darkness in the world that the creator is forced to ponder deeply and communicate the need for change to Noah in a nightmare.
Noah wakes up seeing a planet submerged, and inspired by the divine vision tells his wife and three sons that they have work to do. But alas! Things couldn't be so simple.
Faith-Based, Christian Consumers
The Paramount and New Regency movie is doing pleasant business among mainstream audiences. But what is surprising is that Christian consumers are turning out in force. After raking in a $15.5 million on Friday's opening, "Noah" should gross north of $41 million in its domestic launch, if not $45 million or more, Hollywood Reporter notes.
The news outlet reported citing those with access to grosses that half of the theaters doing the most business on Friday were from those cities and towns in the United States that are traditionally considered faith-based markets, including Salt lake City, Reno, Tulsa, Mobile, Ala., Houston, San Antonio, and Orlando. Hispanics, many of whom are avid moviegoers as well as Catholic, are helping in the film's earnings.
The epic, rated PG-13, began rolling out Thursday night raking in a decent $1.6 million and coming out ahead of the $1.1 million grossed by Christian film "Son of God" on its opening Thursday. The latter, exclusively targeting faith-based consumers had grossed $25.6 million on its first week.
In overseas market, "Noah" generated huge amount in Russia on Thursday, grossing $2.6 million. The movie has already grossed $22 million in its first week from Mexico, South Korea, Australia and Russia overall.