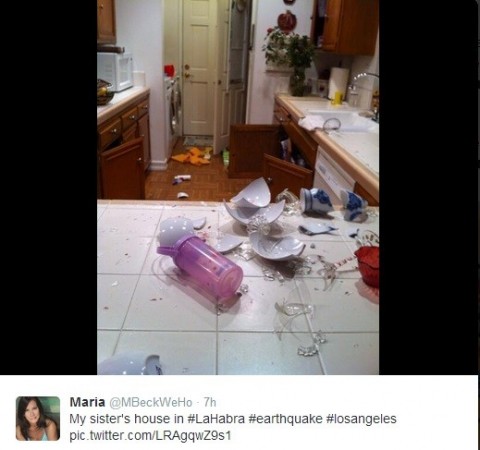 A 5.1 magnitude earthquake rattled suburban Los Angeles on Friday night, shaking a swath of Southern California and instilling panic among residents that the temblor could be a harbinger of a larger quake.
The 5.1 magnitude quake has been one among many other temblors that has hit the region, raising fears that the region could be hit by a few higher magnitude quakes.
The spate of earthquakes began at 8:03 pm when a 3.6 tremor hit the area. That was to be a foreshock of the largest earthquake to hit at 9:09pm local time which was at magnitude 5.1. At least eight other aftershocks of smaller magnitude shave been registered by the USGS in the area - three of them being more than 3.0 in magnitude.
LA Earthquake hits Trader Joe's wine section losses upwards to $12 pic.twitter.com/IuttbZO4W0

— Marga Gomez (@MargaGomez) March 29, 2014
New photo: Car flipped over in Carbon Canyon after 5.1-mag earthquake triggers rockslide in Brea, CA (@AP) pic.twitter.com/t1039dNbEh — BuzzFeed Storm (@BuzzFeedStorm) March 29, 2014
Nine earthquake now in La Habra area, most minor though http://t.co/s4UiI4GMWD pic.twitter.com/Ibt6aTK2gd

— Danny Sullivan (@dannysullivan) March 29, 2014
#earthquake pic.twitter.com/0hAnOnqcHM — Arrested Development (@bluthquotes) March 29, 2014
And then I was all.... Whoa we're having an #earthquake! @ChrisKTLA ❤️ pic.twitter.com/z7vf3DGyOx

— BeverlyHills Porsche (@BevHillsPorsche) March 29, 2014
US Geological Survey seismologist Lucy Jones told Los Angeles Times that the 5.1 quake has a 5 percent chance of being a foreshock of an even larger quake.
"There could be even a larger earthquake in the next few hours or the next few days," Jones was quoted as saying.
The earthquake was felt over a wide swath of Southern California and it broke water mains in a nearby community and forecd Disneyland to shut down rides, reports suggest.
There were no immediate reports of injury or substantial structural damage from the quake, which was centered outside the city of La Habra, located about 20 miles east of downtown Los Angeles, the US Geological Survey has said.
"Tonight's earthquake is the second in two weeks, and reminds us to be prepared," Los Angeles mayor Eric Garcetti said in a statement, released an hour after the shaking.
Garcetti said that an immediate assessment by the Fire Department found no damage within the city limits.
A Los Angeles police spokeswoman told the Reuters that the department had not received any reports of damage or injury.
The quake was felt as far away as Palm Springs in the east and Ventura County to the north, Reuters has reported.
In Anaheim, Disneyland shut down park rides and requested guests to remain seated. In Fullerton several water mains reportedly ruptured, spilling water into the streets and forcing police to divert traffic.
USGA officials have said that the temblor was shallow, at a depth of only 1.2 miles.