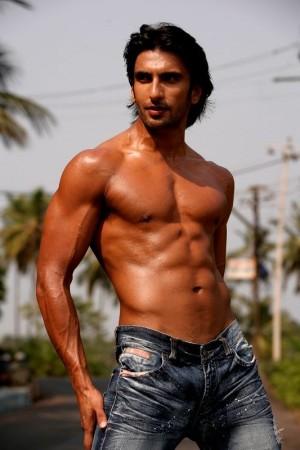 Bollywood actor Ranveer Singh, who is presently riding high on the success of his recent film "Lootera", admitted that he has been carried away by stardom many a time, but is grateful that his family keeps him in check.
The 28-year-old actor started his Bollywood career with 2010 film "Band Baaja Baaraat" which turned out to be a hit. His role in "Ladies vs Ricky Bahl" was also appreciated. His third film was Vikramaditya Motwane's "Lootera".
Speaking about his family and how they kept him grounded after his successful debut, Ranveer said, "I have a very close knit nuclear family who are very frank and blunt with me, especially my father. I will admit, there have been occasions where my father has scolded me saying, 'What are you doing? Why are you behaving like this? you are getting really bratty!'. He keeps me in check," Press Trust of India reported.
"And then I have these two best buddies since the age of 13-14. They are just what real friends do, keep criticising my work and never let me fly high. They make me feel like just another guy. When you have such close people you can never lose your mind," Ranveer added.
The actor said his celebrity status doesn't bother him and that he wants to continue to work in the industry for a very long time.
"What I hope for myself in terms of the career I want and the sort of contributions I want to make to the films, stardom doesn't really matter then. I know where I have to reach so I am not looking at what is happening around me but just concentrating on work," Ranbir said.
Praising Aamir Khan and expressing his desire to work in significant cinema like the "Ghajini" star Ranveer said, "I want to be part of significant cinema. Like Aamir Khan, I think he has been part of the most defining films of Indian cinema. That is my goal."
Speaking about the success of "Lootera" he said, "The kind of response the industry has had to my film is big. I hope to have an opportunity to work with the best directors. I am already working with best. 'Band Baja Baaraat' was a very strong start... On that basis I got 'Ram Leela' and 'Gunday'. Now after 'Lootera' I hope to continue working with the cream crop of directors.