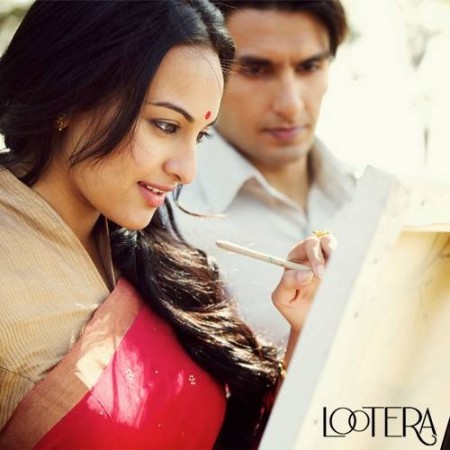 Bollywood's latest release "Lootera" has received positive critical reception upon its release. The film, a period romance drama which released on Friday, features Sonakshi Sinha and Ranveer Kapoor in lead roles.
The film's music also received positive reviews from critics and audiences. This is the first time Sonakshi and Ranveer are paired with each other on the big screen. The film has already got thumbs up from several B-town celebrities. Many have appreciated Vikramaditya Motwane, director of the film, for his work in the film.
The romantic drama is set in the 50s has Sonakshi playing a Bengali girl, Pakhi, and Ranveer as Varun Srivastav.
Check out the critics review here:
Raja Sen of Rediiff.com writes: "Lootera is a gorgeous, gorgeous film, one that uses its period setting affectionately, with loving detail, and not exploitatively, as our cinema is wont to do.
"Vikramaditya Motwane understands this well, which is why his masterful adaptation of a classic O Henry story, nearly a hundred years old, begins with a father caressing a daughter with far older folklore.
"As the ailing daughter listens, the story snaps a character's neck, and the bassline in her head begins to thrum. Lootera makes it crystal clear right from the start that it is an old-world tale -- one involving buried treasure, no less, and rhymes about lizards and rats -- and then, with its sleeves rolled up, begins to enchant.
"The film opens gently, with a cough. The girl is a writer, the daughter of a Bengali zamindar -- naturally she'd have studied at Shantiniketan? That's what the boy rightly assumes, popping into her path as an archaeologist, but now shoehorned into her service as an art teacher. He pretends, she indulges, and one thing leads inevitably to another until we come thudding across to that heartbreaking finale we inaccurately thought we'd braced ourselves for.
"Lootera deftly pays tribute to Guru Dutt's first film by way of song and name of the villain, and borrows a disease from Ritwik Ghatak's heartwrenching Meghe Dhaka Tara. All this while genius composer Amit Trivedi uncharacteristically steals his main theme from a bad English film, as if some pickpocketry was the price of entry. In light of what the titular protagonist does, perhaps this adaptation could be titled The Last Thief."
"A film, then, about life, love and leave. And in the end it comes down to the sort of snow-surrounded tree that you can draw even if you've always had trouble drawing leaves. Magnificent."
Saibal Chatterjee of NDTV writes: "An epic canvas, a quiet love story, a cops-and-robbers drama and an impressively sophisticated storytelling style: Lootera has all this and much more.
"Vikramaditya Motwane, who earned his spurs with the critically acclaimed Udaan in 2010, works here with a completely different cinematic easel. What he has carved out of the raw material at his disposal can only bolster his reputation as a filmmaker who knows exactly how not to be run of the mill.
"In short, Lootera is a Bollywood miracle - a rare Mumbai film that is mounted on a lavish scale and yet dares not to play by the established norms of the marketplace. Motwane makes absolutely no concessions to commercial considerations, sticks to his guns all the way, and ends up with an exquisitely crafted, slow-burning, awe-inspiring film.
"Lootera celebrates the past, mourns the demise of love, life and things of joy and beauty, but in the end affirms the primacy of the human spirit and the power of art to tide over the blows of fate.
"Lootera eschews overt melodrama and settles for an approach that embraces as the complexities of human nature as the simplicity of myth. The musical score (Amit Trivedi) and the lyrics (Amitabh Bhattacharya) are in perfect consonance with the universe that Lootera that conjures up.
"Lootera uses silence and stillness wonderfully well. In such moments of repose, one can hear footsteps on a hilly pathway or a piece of paper being crumpled, and that is such a rarity in a Hindi film."
Taran Adarsh of Bollywood Hungama writes: "LOOTERA is a captivating tale that reverberates with emotions and passion and encapsulates the highs and lows of a stormy relationship magnificently. Penned with utmost sensitivity and crafted delicately and thoughtfully, the film is akin to a beautiful painting on celluloid!
"The premise of LOOTERA may bring back memories of several films. But it's the mood, the ambience, the treatment that lures you into the world of Varun and Pakhi. The old world charm of Bengal and Dalhousie only enhances the impact, while the varied twists in the tale catch you absolutely unaware, especially when one is guessing about what course the storyline would take after a major twist during the interval point.
"LOOTERA bears the look of a classic. The visuals, the shade palette, the objet d'art, the milieu, the apparel... even the way the characters communicate at an unhurried, easygoing pace and share emotions takes you back to the bygone era.
"Every frame of LOOTERA exudes sensuality, partly because the chemistry between the on-screen lovers -- Ranveer and Sonakshi -- is scorching. The fervor and passion the two actors emanate on screen, while living those characters, leaves you awe-struck. LOOTERA is further embellished with dialogue that corresponds so delightfully with the premise. The lines are dreamy, romantic and acidic, as per the situation. The contribution by the DoP is equally pertinent, with the frames appearing to be a painting in motion.
"On the whole, LOOTERA is an intrinsically earnest and profoundly heartwarming story that stays in your heart. An absolute must for those who love romantic films or are romantic at heart. This one's a cinematic gem!"
Subhash K Jha of IANS writes: "A beautiful but deeply flawed film, the eagerly-awaited "Lootera" floors you with its audacious sensitivity and its tendency to use silences to punctuate emotions.
"The love story, apparently inspired by American writer O. Henry's short story "The Last Leaf", moves in mysterious magical ways, but often tends to lose its way in its search for that elusive horizon where two socially, culturally and economically incompatible people in love, hanker to unite, but seldom do. Motwane takes on the theme of sublime love, but seems to pull back at crucial turning points.
"The films looks beautiful but comes dangerously close to skipping the soul, but for one clinching factor. "Lootera" depicts a doomed passion that is at once invigorating and terrifying. Tenderness trickles out of every pore of this beautifully crafted saga of a love so infinite and so forbidden that it seems to scoff at cruel fate and brutal destiny while carving out a craggy jagged path for the lovers.
"Vikramaditya Motwane's storytelling is like a coiled twirling stairway to the heart of his irreconcilable protagonists. The film's muted silences suggest a deep connectivity between pain and love."