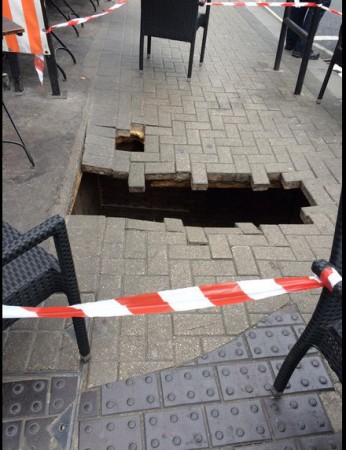 A woman is said to have been 'swallowed' by a sinkhole that appeared outside a London cafe on Thursday morning, according to social media posts.
Initial reports suggested that she was pushing a pram with a baby believed to be in it.
The woman was walking outside the Marrakech Express cafe in North End Road, Fulham in south west London when she 'vanished' into a sink hole at about 8.45 am local time. Some reports suggest that she was pushing a shopping cart and not a pram.
Some witnesses posted photos on social media from the scene, in which a hole is seen on the ground and bystanders watching. The woman is, however, not seen in the photos.
The London Ambulance said that the woman was taken to hospital after the accident.
"We've cared for a woman who was shaken after falling through a hole in the pavement in Fulham. We've taken her to hospital," the London Ambulance said through its official Twitter account.
"OMG! Poor woman and pram just disappeared down this hole on North End Rd. Shes stuck down there," a post on Instagram by ktkittenkat said.
Some photos also appeared on Twitter.
Everybody remember where you were the day of Fulhams great sink hole. #neverforget pic.twitter.com/iX3QKOeNYB — emily (@emily_hendo23) April 23, 2015