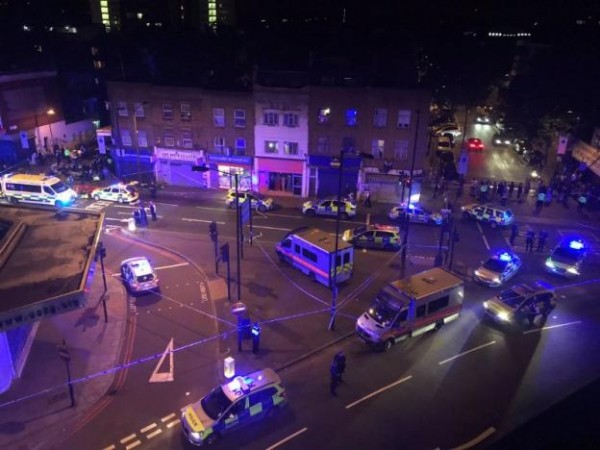 One person died and several were injured in north London during the wee hours of Monday after a van rammed into worshippers who were leaving a mosque. One person has been arrested, and the Metropolitan Police have called it a "major incident". The vehicle hit people when they were leaving the Finsbury Park mosque, according to the Muslim Council of Britain.
One of the reports quoted a witness, who wanted to be identified as Abdulrahman saying that the driver had said he wanted to 'kill Muslims'.
"In seconds this terrible thing happened,"' he told media house. "Literally within a minute, a van with speed turned to where we were and ran over the man who was laying on the floor and the people around him."
The 'white terrorist' waves from the back of a police van after being arrested.
Prime Minister Theresa May said the police are treating the van incident near Finsbury Park "as a potential terrorist attack". She added: "I will chair an emergency meeting later this morning. All my thoughts are with the victims, their families and the emergency services on the scene."
London Ambulance Service had rolled out a statement saying that they were called at 12:15 am to the reports of a collision on Seven Sisters Road. "We have sent a number of ambulance crews, advance paramedics and specialist responses teams to the scene. An advance trauma team from london's air ambulance has also been despatched by car," read the statement.
"From the window, I started hearing a lot of yelling and screeching, a lot of chaos outside. ... Everybody was shouting: 'A van's hit people, a van's hit people'," one woman who lives opposite the scene told the media.
"There was this white van stopped outside Finsbury Park mosque that seemed to have hit people who were coming out after prayers had finished. I didn't see the attacker himself, although he seems to have been arrested, but I did see the van."
Reuters quoted an eye witness as saying that he saw at least one person being loaded into an ambulance. A number ambulances were in attendance.
The Muslim Council of Britain (MCB) said that they had been "informed" that a van had run over worshippers when they were leaving a mosque in Finsbury Park. A tweet from MCB said that the mosque was near Finsbury Park and not outside.
The secretary general of the MCB, Harun Khan, said that he was "shocked and outraged to hear" that a van had "intentionally run over worshippers" leaving Ramadan night prayers on Seven Sisters Road.
Shocked and outraged to hear a van has intentionally run over worshippers leaving #Ramadan night prayers on Seven Sisters Road #FinsburyPark

— Harun Khan (@harakha) June 19, 2017
Reports say that the police personnel at Finsbury Park had blocked off a busy road as nearly 100 people had gathered after the incident. Witnesses have been reported as saying that they saw three injured people, one of whom was in ethnic wear and being given CPR.
Another eyewitness, going by the name Boubou Sougou, told a media outlet that he saw the incident and that the driver had deliberately ploughed into people on the pavement. Sougou, 23, said: " It was not an accident, I saw everything. People were badly injured. The van driver tried to escape but people grabbed him. He did not say anything."
London Ambulance Service had tweeted saying that their priority is to assess the level and nature of injuries and ensure that those in most need are treated and taken to the hospital.
Also, reports quoted Theresa May as calling the situation at Finsbury Park mosque a "terrible incident".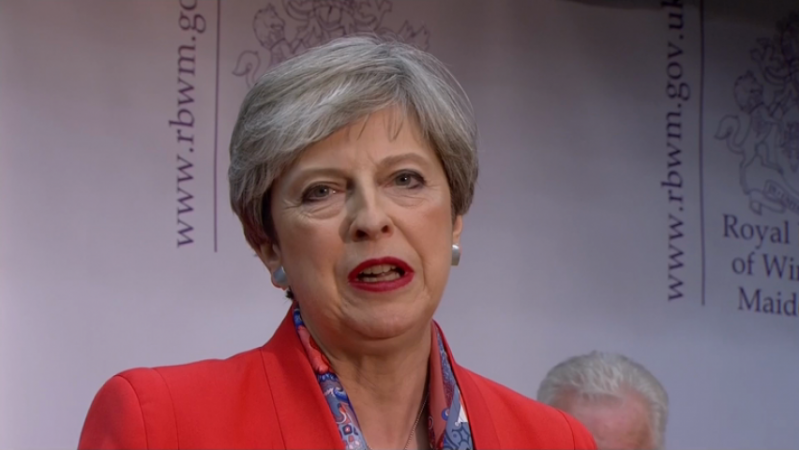 "All my thoughts are with those who have been injured, their loved ones and the emergency services on the scene," she said.
The chairman of Finsbury Park tweeted:
Our thoughts and prayers with those who got injured and effected by this cowardly attack in Finsbury Park area, many casualties in the floor

— Mohammed Kozbar (@KozbarM) June 19, 2017
The incident follows a series of attacks in Britain.
Eight people were killed on June 3 when three Islamist militants drove into pedestrians on London Bridge and even stabbed people at nearby restaurants.
On May 22, a suicide bomber killed 22 people at a concert by American pop singer Ariana Grande in Manchester in northern England.
On March 22, a man drove a rented car into pedestrians on Westminster Bridge in London and stabbed a cop to death before being shot dead. Five civilians were killed in the attack.